ARE YOU EAGER FOR SUMMER? GO TO THE BEST BEACHES IN HAWAII 🌅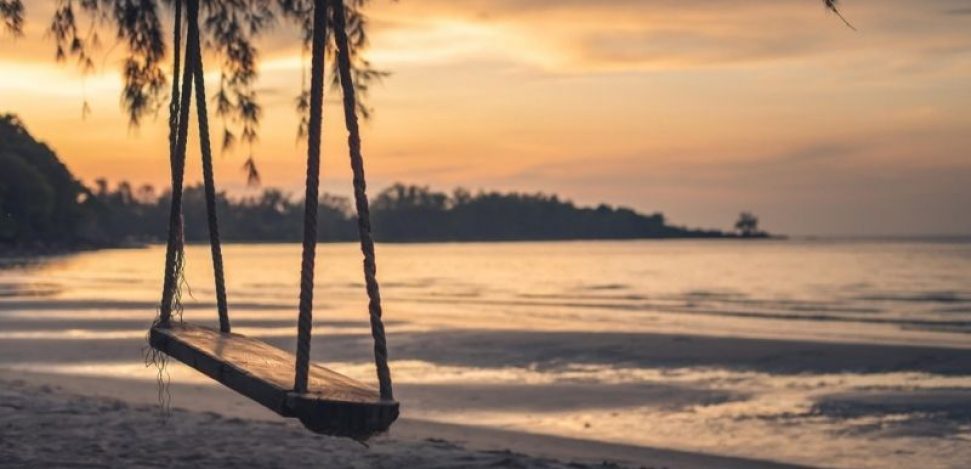 We recently talked about the best surf spots in Hawaii, and this place has a lot to offer! That's why in this post, we are going to tell you all about the best beaches in Hawaii, the ones you won't forget! 😉
The Best Beaches in Hawaii
Hawaii has very different beaches that on the same vacation you can enjoy a variety of experiences. In this small archipelago, there are white, black, and red sand beaches nestled in beautiful bays and rustic coves, there is even a beach with green sand called Green Sands Beach! There is also long beaches ideal for strolling with your friends or enjoying the impressive parties that take place there.
Also, Hawaii beaches are designed for all types of public, from those who are looking for large tourist resorts to go with the whole family, to those who prefer secluded beaches in Hawaii in the middle of the jungle and fascinating places. 
The beaches are, without a doubt, Hawaii's main tourist attraction. So much so that every year thousands of surfers visit this archipelago to enjoy their passion for the best waves around the world. 
Kolekole jungle beach (Hamakua)
On the Hamakua coast, the traveler can enjoy a Hawaiian beach in the middle of a jungle garden, the Kolekole. It's a natural beach where you will find a stream furrowed by volcanic rocks and a beautiful waterfall that gives a magical aspect to the place. This beach is a unique place in the world, so we recommend you to visit it during your stay in Hawaii. This beach is located on the Big Island of Hawaii, very close to the city of Hilo.
Punaluu black volcanic beach (Kau)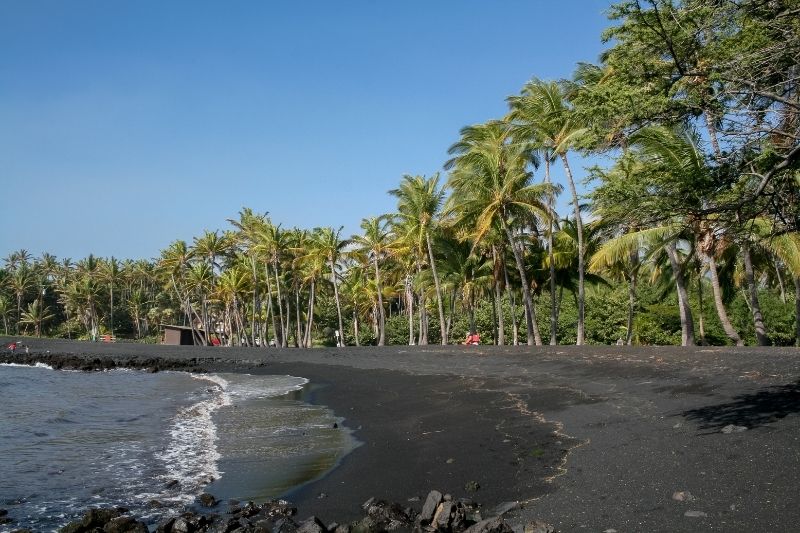 Font: Wikipedia
Within the Volcanoes National Park, located on the big island of Hawaii is this beautiful beach whose main feature is that it is a black sand beach. It's an ideal place to watch the green sea turtles swimming and enjoy the water while you lie in the sun. It can be a good place to enjoy the sea with your friends and observe the life of the Hawaiian fishermen who usually carry out their work in full view of the tourists. 
Onekahakaha (Hilo coast)
This beach in Hawaii is full of small pools that are ideal for swimming in complete safety. It's a very popular place for locals so if you are interested in getting in touch with the Hawaiians it can be a good choice!
It's worth mentioning that from this beach you can enjoy beautiful views of the Hilo Coast 😉
Richardson Ocean Center
This beach in Hawaii is characterized by shallow and crystalline waters. This makes it one of the favorite spots for families with children to enjoy an afternoon at the beach in complete safety.
Due to its great popularity, it's a beach equipped with all the services so that tourists can enjoy an afternoon with the family without any difficulty; here you will find bathing areas, parking, showers, and places to camp or picnic!
Hapuna (Kohala)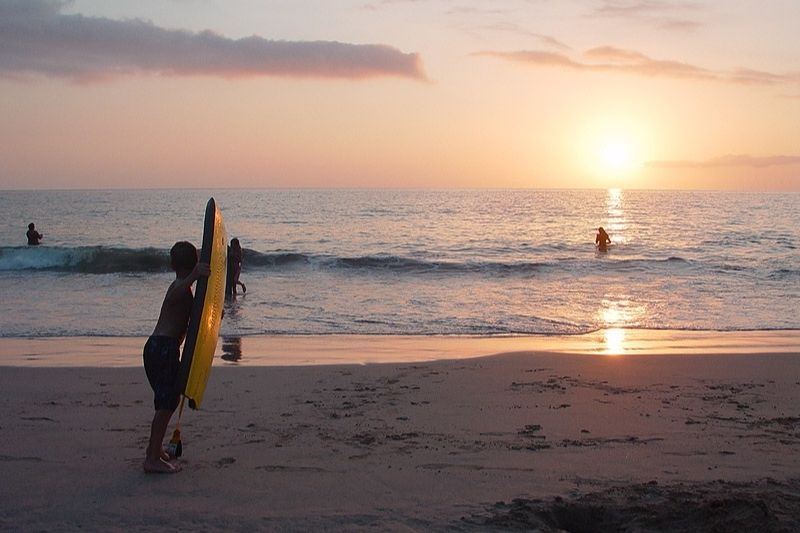 Font: Wikipedia
This is probably Hawaii's most famous white-sand beach on the island as it has a wide extension. It's an ideal place for all those who need to have basic amenities and who prefer tidy beaches with a comfortable structure rather than rustic ones.
Here there is also parking, bathrooms with showers, and spaces to sit and have a picnic.
Holoholokai rocky beach (Kohala)
Font: Wikimedia
This beach is one of the most popular among snorkelers due to the great variety of marine 
fauna found on its shores. It's also an interesting place if you like to walk while enjoying fantastic views. Also, if you look closely you can find ancient engravings on the lava rocks of this beach.
The magic sand of laalao (kona)
It's called the "magic sand" beach because due to the tide many evenings it's sandless. It's also a good spot to enjoy surfing as well as sunbathing. It's a beach that is very well maintained and perfectly enabled for the enjoyment of tourists. However, it's important to note that it doesn't have a large parking lot so it's advisable to arrive early to avoid difficulties in that regard.
Lanikai Beach (Oahu)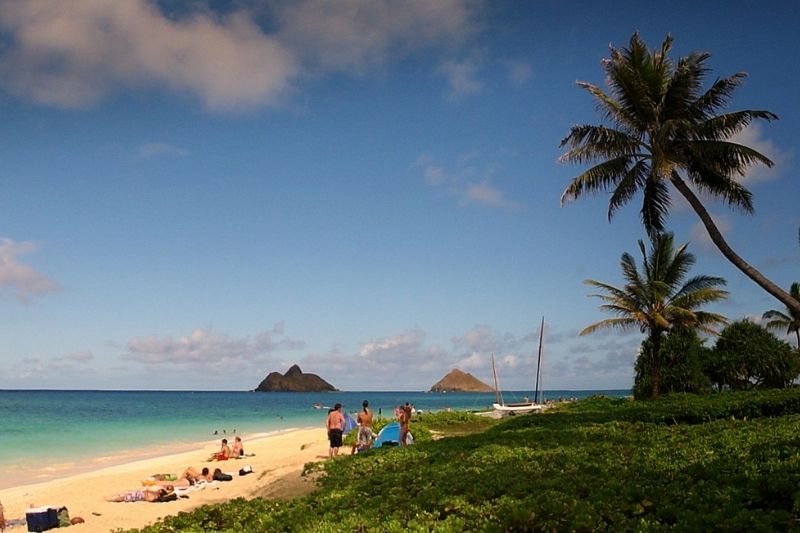 Font: Wikipedia
This beach is ideal if you are looking for a place to swim at ease in its turquoise waters. It has very clean and calm waters and is surrounded by palm trees on a coast of extremely soft white sand, which makes it ideal for sunbathing.
It's also a good spot for surfing and windsurfing, canoeing, and kayaking.
Kapalua Bay (Maui)
This beach of golden sand and calm waters is a paradisiacal place that you shouldn't miss when you come to Hawaii.
It has a calm swell, which makes it a good place to go snorkeling or swimming. It's also an ideal place to spend a beautiful afternoon enjoying the sea and the sun.
Ko Olina Beach (kapolei)
Ko Olina, meaning "fullness of joy", is a lovely three-kilometer beach consisting of four man-made lagoons, with palm-lined walkways connecting these lagoons.
The reefs protect the waters from rough waves and rip currents, making it the safest beach for children.
Swimming, snorkeling, and paddleboarding aren't the only activities you can enjoy; Ko Olina also has a marina and can host whale watching, snorkeling excursions, and dinner cruises!
Waimea Bay Beach Park (Haleiwa)
Waimea Bay Beach is a vibrant and lively coastline, full of unlimited possibilities for fun and the famous and impressive waves. One of the best things about this beach is Da Big Rock, a giant rock which is used for diving.
You have to visit it if you love surfing as it's one of the most popular beach spots to see the bravest and most skilled surfers. In addition to the classic beach activities, diving from the giant Da Big Rock is an emblematic activity that you must try here.
Also, Waimea Bay beach is known for its relatively high and powerful waves. If you want to enjoy a swim in calmer conditions, summer is the best season to visit. 
Makena Beach – (Wailea)
Sometimes known as Big Beach and Oneloa Beach, Makena Beach is the larger of the two beaches in Makena State Park.
Makena Beach is a mile long and has several beach services. Lifeguards ensure your safety, ample parking makes it easy to find a spot, and picnic areas abound for beach bums who want to save money.
If you don't want to waste time preparing food and drinks for your day, Makena Beach also has food trucks next to the parking lot.
Polihua Beach (lanai)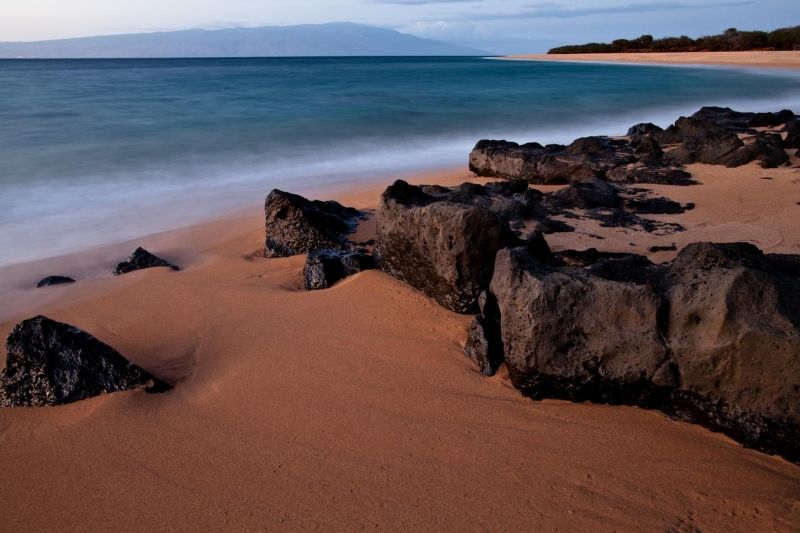 Font: GoHawaii 
The northwestern tip of Lanai hides a secluded and relatively untouched stretch of calm coastline called Polihua.
This 1.5-mile beauty is the longest in town and offers views of Molokai and Diamond Head. Sea turtles love to hang out on the shore for its tranquility, and whales drop by during the winter months.
Although serene-looking, Polihua's waves carry currents that can snatch swimmers, so come here to sunbathe, picnic, or comb the beach. Just don't venture too far out into the water.
Kaihalulu Beach (Hana)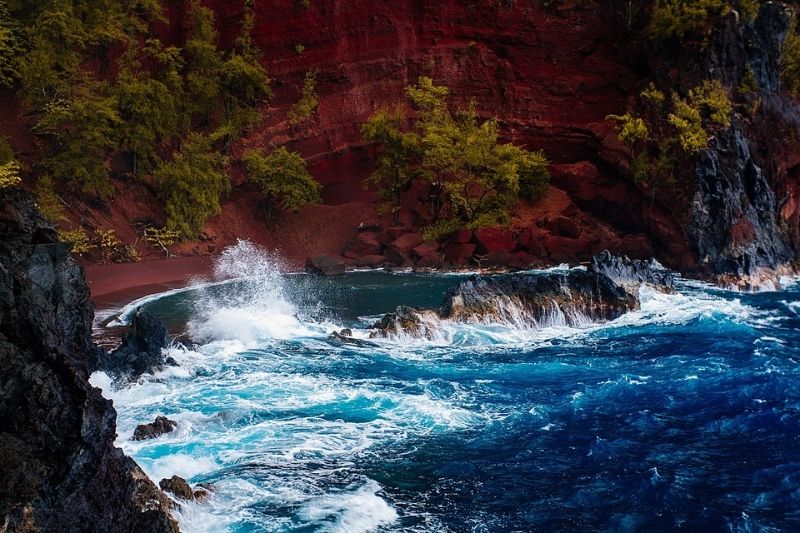 Font: Wikipedia
Kaihalulu beach or red sand beach is a magnificent coastline. A marine reef protects its coastline from powerful waves and currents.
By visiting Kaihalulu beach, you will have entered a different world. Tired of white sand? This beach has fine red sand and black pebbles with the beautiful blue water!
The water in the outer area of its marine reef is stronger. Don't try to swim beyond the reef if you aren't an experienced swimmer!
Are you already planning to visit these beaches? What are you waiting for!