NEW IN! ORGANIC KING SIZE PAPER + TIPS
Remember when we talked about the slow combustion of Smoking paper and its importance? After we achieved, with a lot of effort, the CDP certificate, we want to introduce you to a new rolling paper that you will love: the Organic King Size Paper, with new tips to enjoy it even more!
If you are into new experiences, you better try it! Besides, it will make you feel like a much more sustainable person! 😎
What is rolling paper?
As you may already know, rolling paper is the paper used to roll cigarettes and can be made of linen, hemp, cotton fibers, and wood, among others. In addition, it can also have different sizes and particular characteristics.
In this way, it can be defined as a thin sheet of paper containing a gummed strip to be able to close the cigarette once it has been rolled.
What do you think?
The thinner the paper, the lower the weight?
The more intense the smoke, the more flavor?
The slower the combustion, the greater the enjoyment?
The combustion of cigarette paper
Combustion is any reaction that has been created between combustible material and the comburent, activated by energy and creating, at the same time, heat, specifically creating an exothermic reaction.
🔥The combustion of cigarette papers contains a natural part and a part that can be altered by combustion additives, with retarding effects, which would be slow combustion, or accelerating effects, which would be free combustion.
The natural porosity of paper
The natural porosity of the paper is one of the most important characteristics of managing the natural combustion of paper. As a general rule: the more porous a paper is, the faster it will burn. This is because there is more air ventilation.
Calcium carbonate
The calcium carbonate (filler) content is another important characteristic that determines the combustion of paper. Additives can function as retardants or accelerators.
Accelerants
Accelerants are 99% tripotassium citric acid and trisodium salts. These components increase the burning speed of both rolling papers and cigarettes. In addition, they also modify the burning characteristics, e.g. the appearance of the ash.
Retardants
On the other hand, combustion retardants, which are composed of ammonium salts of phosphoric acid, slow down combustion, thus creating slow combustion.
In this way, accelerants create a more porous type of paper with accelerating combustion additives. With these papers, you get a smoking experience very similar to that of a conventional thick paper cigarette.
On the other hand, with slow combustion, natural combustion is created, without any additives and with a low porosity!
New in! Organic King Size paper + TIPS 😎
King Size rolling papers, large rolling papers for whatever you like
If your thing is to enjoy yourself, or you like to do it in the best company, you need a large rolling paper! Of course, as every smoker is different, the different options of King Size rolling papers by Smoking adapt to your tastes, whatever they may be. 
The King Size is a long rolling paper, and we are sure that you are already thinking of a thousand options to enjoy it as it should, now you just need to know which of all the ones in our catalog to choose!
Smoking long rolling papers catalog
If you have already tried our Deluxe in other sizes, you will be amazed by its 110 millimeters/4.33071 inches long. Maximum transparency with bombproof resistance, slow combustion, and zero additives. 
If you're already an artist in the art of large rolling papers, we have some great options for you. From our King Size Master rolling paper, a large rolling paper with less paper, to the 20% lighter Thinnest or Thinnest Brown options. In the latter case, they are also unbleached, or in other words, much less processed!
If you're looking for an organic King Size paper, you'll find plenty of alternatives at Smoking that are ideal for you. In addition to our unbleached, additive-free Brown variety and its thinner Thinnest Brown alternative, you'll enjoy Smoking Organic, made from 100% certified organic hemp. This is one of our Tree Free and chemical-free papers, which also contributes to the planting of 50,000 trees a year in collaboration with the NGO Trees for the future. 
And the new one… The Organic King Size paper + TIPS!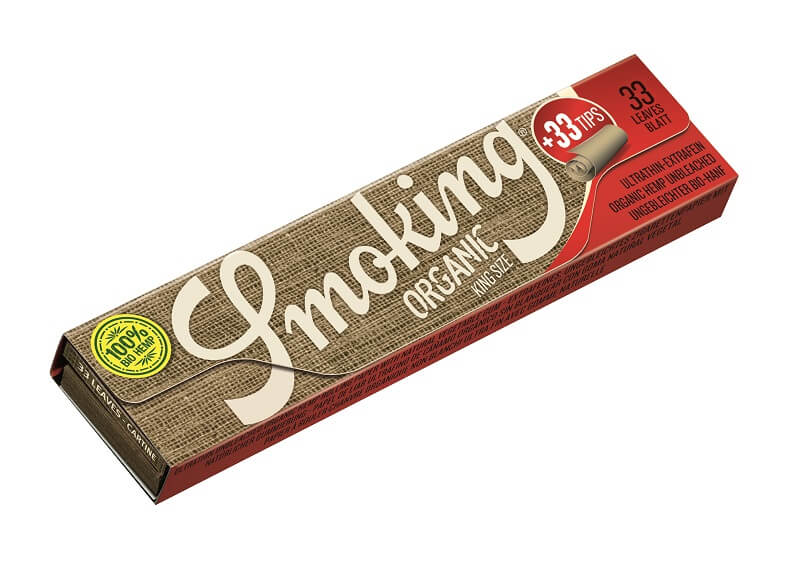 Combination of 33 cardboard filters with our 100% BIO-certified organic hemp paper! Ultra-thin, slow-burning paper, 100% natural vegetable gum, no coloring or other additives. 
The new Organic King Size paper contains 33 papers of size 108 x 44 mm, paper weight 13 gr/m2, and 33 filters or cardboard nozzles ready to cut.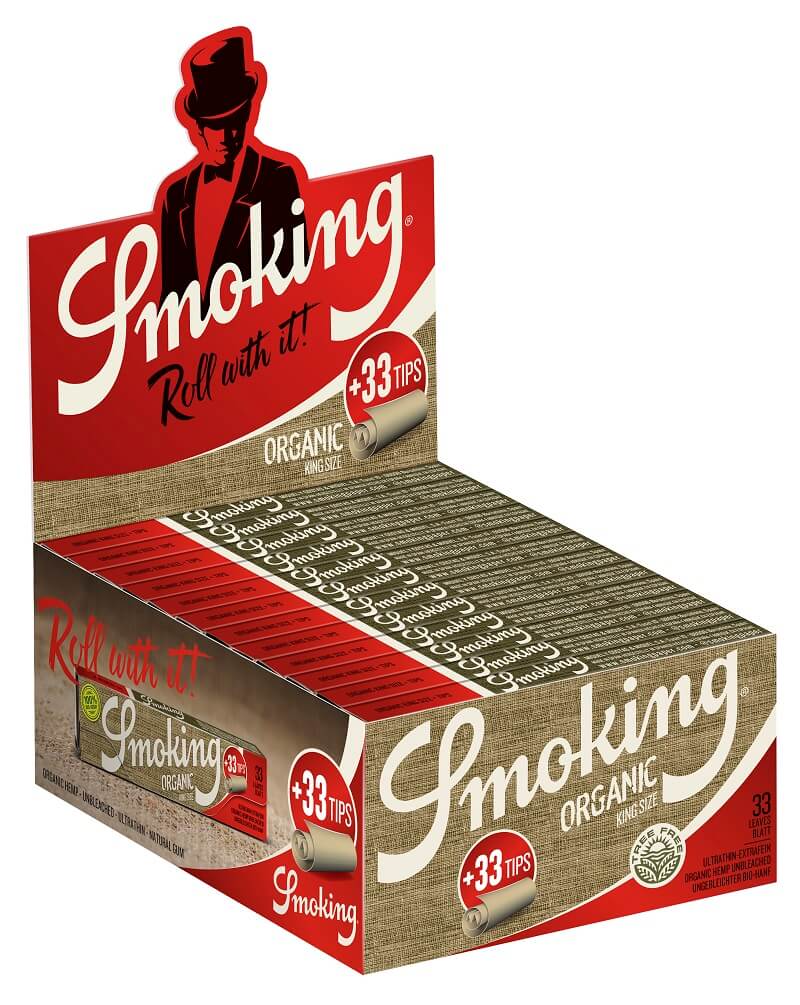 As you can see, our products are intended to have the least possible impact on the planet. And now that we've brought you up to date, all you need to do is choose your favorite cigarette filters… and off you go!
Other Smoking Papers
Remember that Smoking Papers are natural, being, most of them, slow combustion, with 100% natural gum. A good example of slow combustion is the finest rolling papers. Let's take a look at some examples, besides the New Organic King Size Paper! 😍
Smoking® Orange
The ideal paper for those looking for an experience similar to that of conventional cigarettes!
Its medium weight allows for free combustion, and it contains no dyes or other additives. Like other papers, Smoking® Orange also guarantees excellent gluing from the first roll. In addition, it is made from 100% vegetable gum and has the Tree Free seal because it is made from textile fibers.
Smoking® Blue
This is one of everyone's favorites! Its ultra-thin, slow-burning paper makes it the paper of choice for those who prefer to enjoy a cigar without rushing. 
Made from 100% natural gum of vegetable origin, without coloring or other additives, Smoking® Blue guarantees excellent gluing in a single pass. It is also very easy to handle, so if you are just starting to roll your first cigarettes, Smoking® Blue may be your best choice 😉. 
Smoking® Organic
The most environmentally friendly and sustainable paper!!!! With the Tree Free seal that guarantees that no trees have been cut down to make it, this unbleached paper is the most committed to protecting the planet as it comes from hemp. 
In addition, when you buy Smoking® Organic papers, you will be contributing to the protection of the environment thanks to the donation we make to Trees for the Future, an organization dedicated to the fight against deforestation in sub-Saharan Africa, Latin America, and South, and Southeast Asia.
So, with the purchase of any Organic product, you directly collaborate in planting trees. And, of course, it is made with 100% natural vegetable gum, without coloring or additives.
Now that the new one is here… Organic King Size paper + TIPS!!!! What are you waiting for to try it?