MINIATUR WUNDERLAND: A WONDER IN A SMALL SIZE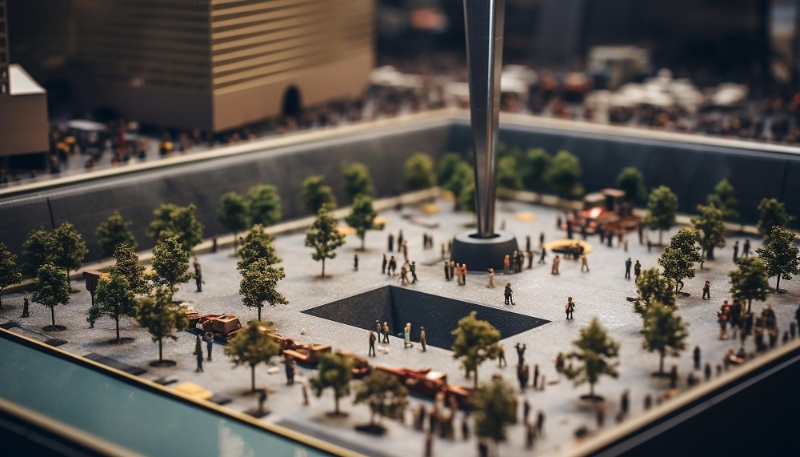 Trying to explain Miniatur Wunderland without experiencing it is a real head-scratcher. Yeah, it's this colossal train spectacle, but trust us, it's way more than just trains! 
This place officially holds the title of the biggest model railway globally, and guess what? It's still growing! 
Now, if you're worried it's all kiddish, let us show you it isn't!
What is Miniatur Wunderland?
Miniatur Wunderland is like the granddaddy of all model railways—it holds the heavyweight title of being the world's largest. 
Tucked away in Hamburg's old warehouse district, the Speicherstadt, this museum takes over multiple floors of a classic brick building. And guess what? They're not stopping there; they've got plans to expand into a whole second building. 
With a whopping total of 9 themed worlds and more still in the pipeline, this place is like a giant playground for model train enthusiasts!
1. Central Germany (Harz Mountains)
This was one of the OG-themed worlds, featuring charming German villages, mountainous landscapes, an old castle, an open-air theater, a funfair, and even a high-speed ICE train zooming through the scene.
2. Knuffingen
A fictional town somewhere between Central Germany and the Alps, Knuffingen is all about the car industry and has a bustling public service setup, complete with a robust police and fire department. Hold on tight, 'cause every 15 minutes, they're dealing with some fire drama.
3. Austria 
Calling all skiing enthusiasts! This Austrian Alps-themed world is a winter wonderland with snowy slopes and breathtaking skiing scenes.
4. Hamburg
A jaw-dropping replica of the city itself. From the meticulous main train station to the intricate details, this themed world captures the essence of Hamburg, day and night.
5. USA
Wrangling the vastness of the United States into one themed world is no small feat, but Miniatur Wunderland nails it. 
 From the West Coast to the Rocky Mountains, Las Vegas to the Grand Canyon, and Mount Rushmore to Cape Canaveral, the USA world covers it all.
6. Scandinavia
The largest themed world, depicting Denmark, Sweden, Norway, and Finland. Snow, light theatrics, and over 30,000 liters of water recreate the North Sea and Baltic Sea.
7. Switzerland
A two-story masterpiece offering diverse views and angles. Walk through the mining tunnel of the Matterhorn, and bonus – there's a Lindt chocolate factory with a hidden button that delivers real, sample-sized chocolate!
8. Knuffingen Airport
Yep, Knuffingen has its airport! Watch planes take off and land, including the occasional surprise appearance of the Millennium Falcon. It's a cool homage to Hamburg Airport.
9. Italy (including the new Venice section)
The newest addition to the Miniatur Wunderland family, Italy takes you on a tour of Southern Italy, the Amalfi Coast, South Tyrol, Rome, Tuscany, Liguria, and Venice. Talk about the full Italian experience!
Backstory on the epic journey of Miniatur Wunderland
It all began as a passion project for the Braun twins, Frederik and Gerrit. Picture this: In July 2000, the twins are dreaming big, and by August 2001, Miniatur Wunderland officially opens its doors with three worlds – Central Germany, Knuffingen, and Austria. 
Back then, it was a modest 1,500 m² model railway. Fast-forward to today, and this wonderland now spans a whopping 7,000 m², with expansion plans in the pipeline at least until 2026. What started as a hobby for two brothers has transformed into one of Hamburg's absolute coolest museums!
Mind-blowing facts about Miniatur Wunderland
15,715 meters of Track: That's a jaw-dropping 15.7 km or 9.8 miles of track winding through the various themed worlds.
1,040 Trains and 10,000 Rail Cars: There's no shortage of locomotion here, with a fleet of over a thousand trains and a whopping 10,000 rail cars.
1,380 Signals and 3,454 Switches: Precision at its finest! The themed worlds are choreographed with over a thousand signals and thousands of switches.
50+ Computers in Control: Behind the magic, more than 50 computers are orchestrating the intricate dance of Miniatur Wunderland.
389,000 LED Lights: Light it up! Nearly 400,000 LED lights add that extra sparkle to the miniature landscapes.
4,340 Buildings: It's a city within a city! Over four thousand buildings make up the charming miniature worlds.
130,000 Trees: Nature gets a mini-makeover with a staggering 130,000 trees dotting the landscapes.
923,000 Working Hours: Creating this wonderland took serious man-hours—923,000 of them to be exact! A dedicated team of over 300 employees poured their passion into building the themed worlds.
35 Million Euros in Construction Costs: Building a world within walls comes at a cost, and in this case, it's a cool 35 million Euros.
And here's the kicker—these numbers are on the rise! As Miniatur Wunderland continues to expand, these figures just keep growing. It's a miniature universe in constant evolution!
Tips for Visiting Miniatur Wunderland
Ticket 
Book those tickets pronto! Waiting around is an Olympic event, and it's not uncommon to be staring at a "Sold Out" sign by midday. 
Pre-booking guarantees your golden ticket and a prime spot in the museum whenever it suits your fancy. Plus, say Sayonara to lining up for what could be a Netflix binge's worth of hours. Snagging those tickets ahead of time is a breeze:
Buy tickets for Miniatur Wunderland here!
Choose your adventure with a nifty 60-minute entry window. But once you're in the model railway spectacle, time is on your side. 
Stay as long as your heart desires! Perfect for those moments when the themed worlds grab you by the imagination and turn your planned 2-hour visit into an epic 4-hour escapade! 🙂
Opening Hours
Watch out, schedule sleuths! The operating hours at Miniatur Wunderland are a bit like a game of musical chairs, so it's wise to give those times a second glance before you make your grand entrance! 
Usually, the model railway keeps the show running 365 days a year, starting at a respectable 9:30 a.m. and wrapping up by 6:00 p.m. But hold onto your hats—on weekends, public holidays, school holidays, and Tuesdays, they often sprinkle a bit more time into the mix. 
Don't wing it; make sure to peek at the website in advance for the freshest scoop on the opening hours!
Special Tours
Wheelchair Mondays: Miniatur Wunderland is all about accessibility, but the big crowds can make it tough for our wheelchair-bound pals to soak it all in. So, every 4-8 weeks, Monday evenings (6:00 pm – 8:00 pm) roll out the red carpet exclusively for those on wheels. 
Wunderland at Night: Picture this—every few weeks, Wunderland at Night turns down the lights and cranks up the magic for a select few night owls. Sure, tickets might be a tad pricier, but it's a chance to savor Miniatur Wunderland in a more intimate setting. 
Culinary Trip Around the World: Dive deep into the themed worlds while treating your taste buds to a culinary feast! Happening once or twice a month from 8:00 p.m. – 11:30 p.m., this tour lets you sample regional delights from the themed worlds while enjoying an insider's view. 
Big Tubs & Small Trains: Mix a 1-hour harbor boat tour (a Hamburg must-do) with a dash of Miniatur Wunderland. Cruise through the harbor before diving into the model railway. Happening several times each month, this special treat is a no-go for barrier-free access. 
Guided Backstage Tours: Multiple times a day, these behind-the-scenes tours keep it cozy with a max of 6 participants. Sign up online, and there's no extra cost beyond your ticket. If you're hankering for an English tour, drop them a line—they can usually whip up a group. 
Other important information!
Prepare to capture the moments! Miniatur Wunderland not only permits but actively encourages photography.
Feel free to use the cloakroom for coats and bags (and even witnessed luggage stored there), but let's be mindful of not overloading the space with too many items.
If you find your stomach rumbling, fret not! There's a petite café on site, offering meals and beverages, including alcoholic options, to visitors.
Oh, and don't forget the golden rule: secure those Miniatur Wunderland tickets beforehand! It's the key to a hassle-free entry.