THE BEST OF BANKSY STREET ART AND CURIOUS FACTS ABOUT HIM
Surely you have ever heard the name of Banksy, and although he is an anonymous person, he is one of the most recognized street artists worldwide thanks to his iconic works and his most surprising and unusual actions. In today's article, we want to comment on who Banksy is as an artist, how he started, and what are his best works of art so far.
BANKSY ART: HIS BEST AND MOST FAMOUS ARTWORKS
Banksy's art is unique and easily recognizable and is characterized above all by implicitly carrying political messages with great social criticism. As we will comment below, Banksy is influenced by Blek Le Rat, different situationist currents, and especially by pop culture in general.
As a consequence of all these influences, Banksy is able to create great works with political, social, and cultural criticism, either through techniques such as spray, stencil, stencils, sculptures…
Next, we will comment on which of his works have been the most important so far and also the most controversial works of Banksy.
Girl with Balloon
One of Banksy's most recognized works is Girl with Balloon, he created it in 2002 in London's South Park, on a wall where he shows a girl losing a heart-shaped balloon. Of this work, it is worth highlighting that all the illustration is done in black and white except for the heart-shaped balloon, which is red and contains the following phrase: "There is always hope". Specifically, this work has been created with the stencil technique and has been one of the most replicated works. 
It is important to note that Banksy is not only a controversial artist for his works and criticisms but also for some of his actions through which he continues to show his opinion. Specifically, we are talking about the month of October 2018 when after auctioning his work the Girl with Balloon he decided to destroy it and shred it in front of all the people who had come to the auction. 
Through this action, Banksy affirmed that it was an artistic impulse and also a complaint, and affirms that "A few years ago I secretly built a shredder in a painting. In case it was ever auctioned … "
Soldier Throwing Flowers 
This is another of the street artist's best-known works and reflects some of Banksy's trips to Palestine. It is believed that he may have created this work in 2005 when he did some work on the border between Palestine and Israel. Through this, Banksy reflects a person who is understood to be fighting with his face covered, this person instead of throwing a warlike object, throws a bouquet of flowers. 
Sweep it under the Carpet 
The next work we want to highlight is the one known as Sweep it under the Carpet. This one is located in East London and it is believed that he created it in 2007. This work shows how a housekeeper hides the dirt behind a fold of cloth and through this, it is intended to make a criticism of how everything bad is hidden so that society does not find out.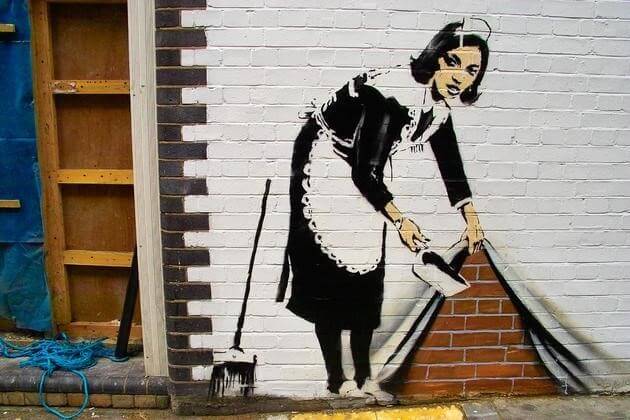 Kissin Coopers
This is undoubtedly one of the most controversial works that Banksy has ever created, and it reflects two uniformed policemen officers kissing. This work located in Brighton caused much controversy due to the representation of two authority figures in a love situation. 
Stop and Search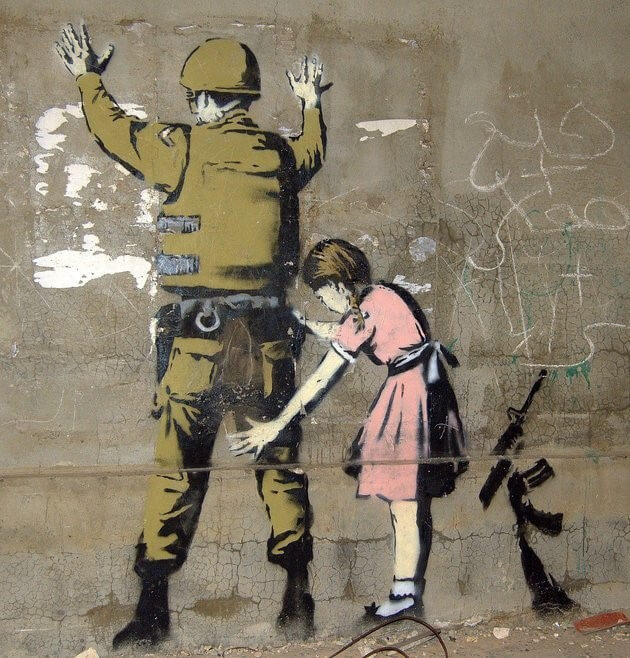 The last of the works that we want to comment on is Stop and Search. This was also painted on one of his trips to Palestine, specifically in Bethlehem in 2007. Through this work, Banksy reflects on what it would be like if the roles were reversed, showing how a girl puts a soldier against the wall to register it. It is important to note that this work is located in a place where there is permanent tension between Arabs and Jews.
If you want to discover more about Banksy, we recommend you follow and visit his Instagram account @bansky.
WHO IS BANKSY? A SUBJECT OF SPECULATION
The big question is: Who is Banksy? Banksy is the pseudonym by which one of the best street art artists is known today and although there is no specific information about him or his biography, it is believed that the artist was born in Bristol in 1974.
Banksy has become one of the most renowned artists in the world. As a result of his anonymity, he has also become one of the most mysterious artists that generate great curiosity. As a consequence of his anonymous personality, there has been much speculation about his life and his beginnings as an artist.
The only interview Banksy gave was in 2003, and it is the only confirmed meeting with a journalist. Specifically, he was interviewed by Simon Hattenstone for The Guardian, and despite the fact that it was an interview, the journalist did not provide much information about the artist since he only limited himself to defining him as: "a tall white man, less than 30 years old, dressed in a very casual way, with jeans and a T-shirt and a silver chain and earring "
WHEN DOES HIS WORK START?
Banksy began his career in the art world by painting rats through all the streets of Bristol, through this drawing and like many others of his works he intended to criticize the system. In this way, and from the beginning, Banksy's works have always aimed to seek social and moral criticism through irony and satire. To do this, he uses writing, the stencil technique, and graffiti.
Although he began to develop his work in the streets of England, thanks to a graffiti artist named 3D who had lived in New York, it is considered that his great reference was a French author known as Blek le Rat, a graffiti artist who filled the streets of Paris with his works in the 80s.
Thanks to le Rat, Banksy was able to perfect his technique since he began to use the stencil and the spray paint to be able to create his works and thus express his criticisms and complaints.
WHERE CAN YOU FIND BANKSY'S ARTWORK?
Throughout his career as an artist, Banksy has been creating works in many parts of the world, although it is believed that the place where more works can be found is England, specifically London, and the surroundings of Regent Park and Camden Town.