DO YOU KNOW ALL THE GRAFFITI STYLES? DISCOVER THEM!
Do you remember the most popular walls in Chicago? Surely you saw that they had quite a few differences between them, it all depends on the message wanted to give and the author, but have you ever thought about the types of graffiti that exist? We explain it to you! 😉
What is Graffiti?
Graffiti is the name given to aerosol graffiti or different paints, with different forms, such as inscriptions, recognized in urban areas with unique and personal characters.
It refers to a particular graffiti, of abstract characters on the walls in a free and creative way with infinite expressions, which its protagonists spread with a certain purpose, generally, its essence is revolutionary and rebellious, so you can find political graffiti. It's done spontaneously, quickly, and generally at night, in public places, anonymously.
Types of Graffiti
Wildstyle graffiti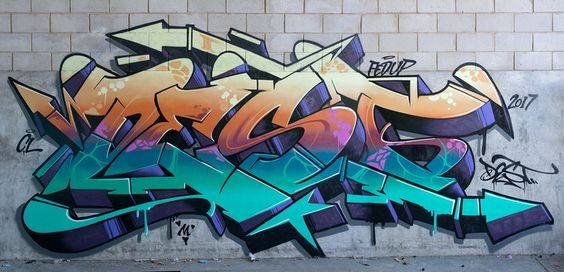 Font: Pinterest
Wildstyle is a complicated and extremely stylized form of writing that, to the untrained eye, isn't easy to read! 
Wildstyle writing displays numerous arrows, spikes, curves, and other elements that other artists who don't specialize in graffiti might have difficulty understanding. Wildstyle pieces are often 3D, and it's considered to be the most complicated form of graffiti.
Model Pastel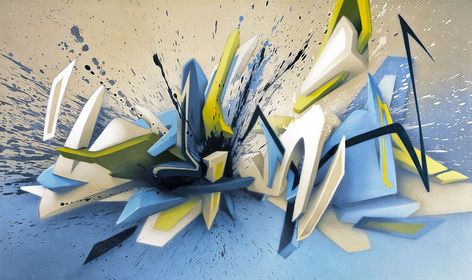 Font: Pinterest
The Model Pastel is a trend in graffiti that leaves aside the traxos and brightness, to use different kinds of gradients, which seek to give the work a feeling or 3D effect. Its secret lies in focusing more on the filling of the letters than on the stroke, to ensure greater volume and texture necessary to achieve the perspective sought. The colors used by the graffiti artist are very important since it's the range of colors chosen that will provide better or worse results.
The pastel model was initially born in Europe, although it became popular in the United States and other countries. It's a highly artistic urban style since it lacks spontaneity and demands a precise creative process, where the artist must prepare sketches and study the canvas well before forging the final work. Therefore, it's one of the most admired styles among people outside the world of urban art! 
Tags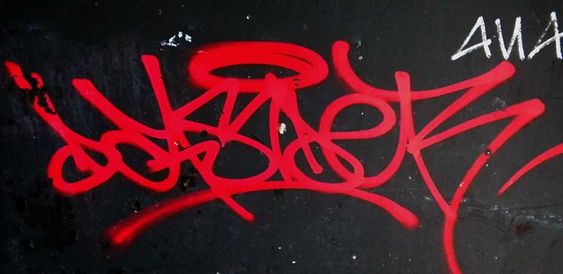 Font: Pinterest
Tags are the simplest type of graffiti, consisting of the street name of the writer in a single color. Tags are the graffiti writer's signature. If they are associated with a group or band, they may also contain the name or initials of their members.
Tags can be found in multiple places around the world, and are very common. They are made in spray paint, markers, or pens. It's considered extremely disrespectful to draw a tag on another graffiti artist's tag or piece.
When there are excessive tags in one place, it's called bombing.
Bubble Style Letters
This is graffiti composed of comparatively simple, thick, rounded letters, containing more than one color. They have at least one fill color and one outline color.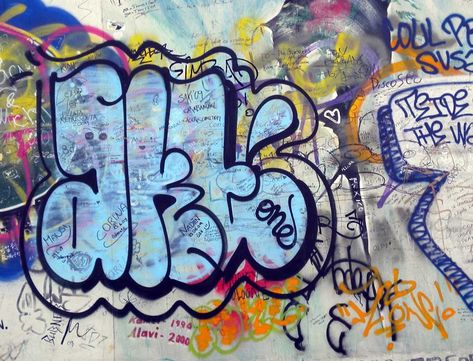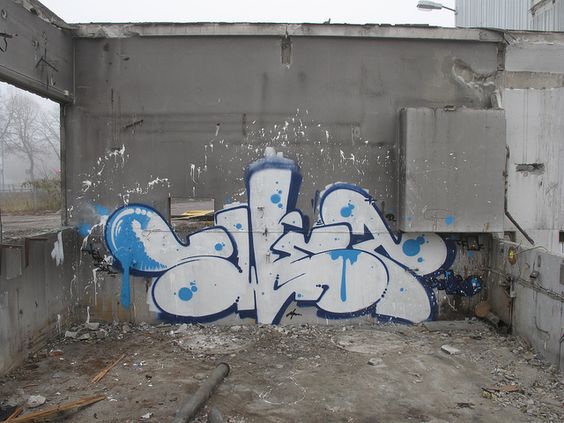 Font: Pinterest
This is a somewhat newer style, which although based on the essential aesthetics of graffiti, blurs it to the extreme of creating shapes sometimes somewhat unpleasant to the human eye, deformities, colors that are unpleasing to the eye and lacking a conventional aesthetic sense, which seems dirty.
It's sometimes difficult to detect if graffiti is simply done with the intentionality of that style, or because of a certain inability to do a good job. That is why some exponents of this genre dedicate themselves to doing pieces of other more common styles as well; to demonstrate that they do know how to paint.
Throw ups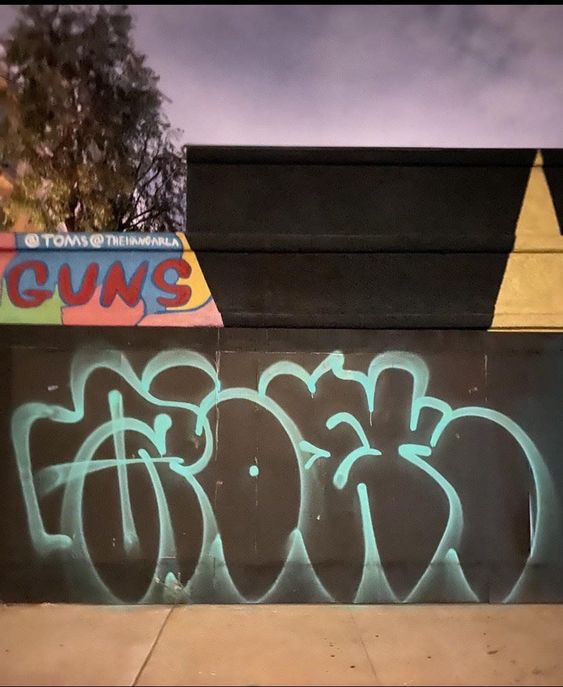 Font: Pinterest
A Throw Ups is a type of graffiti that is more complex than a Tag, and generally employs between two and three colors; although it isn't as elaborate as a conventional piece. A Throw Ups is something that can be done quickly and repeatedly, while still identifying the writer. They are usually done in bubble letters, often in one color with a different color outline. When graffiti writer goes out the bombing, they are usually putting tags or Throw ups all over their area.
They are similar to pomp lettering, only with simpler strokes; since the purpose of Throw, ups are quantity, not quality. They are done quickly, and in their filling, you can see spray marks leaving scratches and semi-invisible spaces.
Block Letter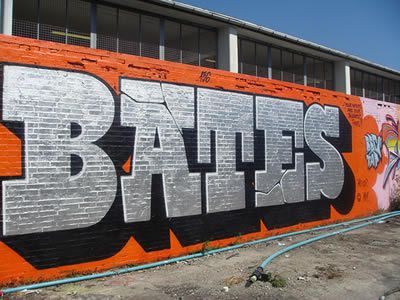 Font: Pinterest
This type of Graffiti technique is to make the graffiti easy to read, fast and distinguishable from a great distance. That is why its letters are large, thick, with a legible and simple filling.
Characters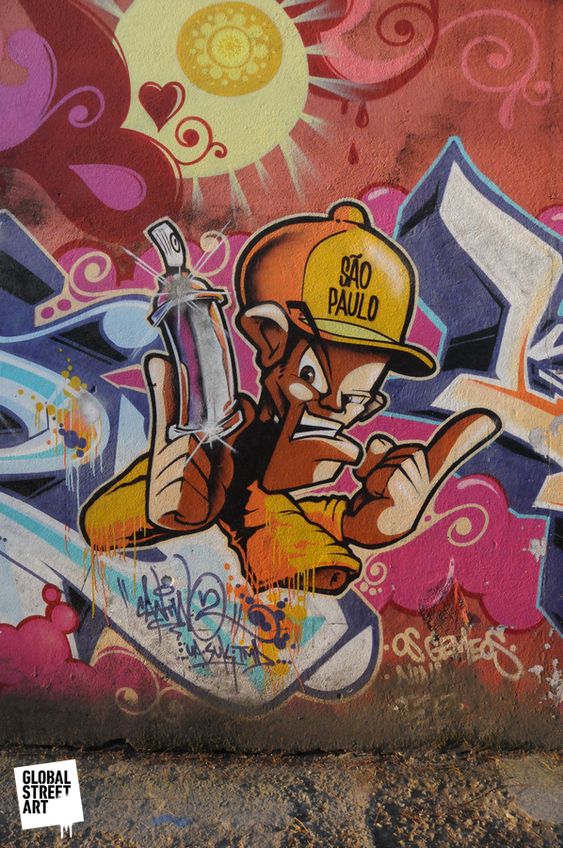 Font: Pinterest
Characters appear to keep the letters in the graffiti company. It's believed that several of the writers who use this technique have been born from other artistic branches, such as plastic art or comics, leading them to manifest their originality, ultimately, in graffiti.
Generally, the characters represent the mood of the writer, or have a motive of criticism or protest. Among the most popular authors are Inupié, Hask, Mode 2, Toast, Sip, and many others.
Abstract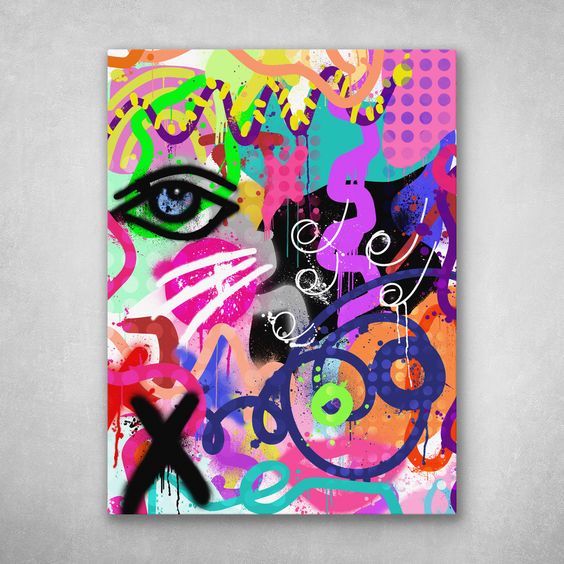 Font: Pinterest
Although this type of graffiti leaves a little aside from the most common characteristics of graffiti, it's still done with aerosol and is done in urban environments.
As the word says, they have an abstract character that is evidenced by the talent and taste of each artist, but keeping the materials with which it's executed.