THE TRUE MEANING OF JAPANESE YAKUZA TATTOOS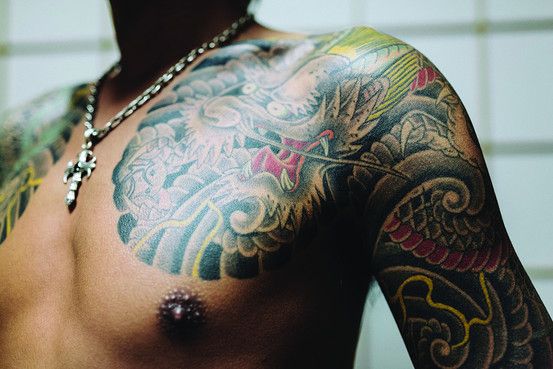 We have already talked about Thai tattoos and American traditional tattoos. And not to stop talking about these magnificent tattoos, today we want to refer to Japanese Yakuza Tattoos and their meanings.
What is your next tattoo? 😉
Japanese Yakuza tattoos
Probably if we think of tattoos, at least if we think of Japanese tattoos, the typical image of the yakuza soldier whose body is completely tattooed with different figures comes to mind! The style of these tattoos has become very famous, especially for appearing in movies, anime or video games of all kinds.
However, the truth is that in Japan it represents a rather feared sector of crime, which is why tattoos in the land of the rising sun aren't well regarded. It's obvious that a young person would have no problem with them, but middle-aged or elderly people might think badly of someone who wears tattoos.
Japanese style here, of course, has nothing to do with organized crime or yakuza. The Japanese style is one of many, much chosen by fans of that culture for their tattoos. Carp, dragons, yokais, sakura flowers? There are many Japanese symbols that we can recognize in tattoos, and many of them have their own meaning.
Carpas koi
Probably the most representative fish of Japan, being the origin of many of its legends and influence in characters such as the Pokémon Magikarp, koi carp have a specific meaning in tattoos. An ancient legend says that koi carp transform into dragons, so it's associated with strength and courage! 
Font: Pinterest
A tiger
We have probably seen some animals in yakuza tattoos. Snakes for example symbolize, depending on their shape and style, good fortune or even a long life. 
Tigers in a Japanese tattoo also represent strength, courage, or courage of the person, as well as a long life. Being one of the sacred animals, the tiger is also used to ward off evil spirits and bad luck. Other representations can also symbolize revenge.
Font: Pinterest
Noh Mask
Noh masks, a form of traditional Japanese theater, are known to express different sensations depending on the angle from which they are viewed. Many of them are shaped like demons. They are said to capture demonic souls and consume their wearer if he or she isn't skilled in Noh. White masks usually represent high class people!
Font: Pinterest
Japanese dragon
Dragons in Japanese tattoos are often in an ascending position and, in Asian culture, control water and winds. The Japanese dragon is usually depicted with three claws and, perhaps, holding an orb. They typically represent courage and bravery as well as wisdom and reason. It is one of the sacred animals and is recognized as having a certain balance.
Font: Pinterest
The samurai
You may also have seen the figure of a samurai tattooed on the skin of a yakuza in movies and video games. As in real life, these tattoos symbolize the straight path and honor, not having to be honored towards the good side of justice. It can honor the servitude of his/her boss.
Font: Pinterest
Goro Majima
Majima has a large, fearsome white hannya mask and a white snake. It's unclear whether the mask's nickname Hannya refers to the name of its original carver or to the word hannya meaning wisdom. 
Depending on the angle from which they are viewed, hannya masks can express different emotions. However, in the front view it's particularly frightening!
In Noh theater, red Hannya masks are usually for lower-class characters, while white masks are usually for upper-class characters. However, white snakes symbolize good fortune, and there are even Shinto shrines dedicated to them. 
Snakes emerge from hibernation in the spring, so they are often combined with spring flowers symbolizing beauty and the fleeting nature of life. However, since snakes shed their skin, they were seen as immortal in the past, making a fascinating comparison between the short-lived flowers and the seemingly eternal snake.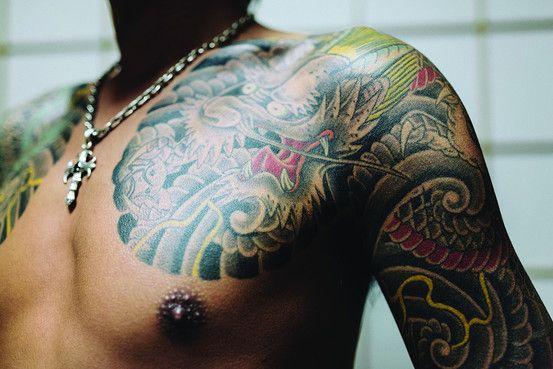 Font: Pinterest
Do you dare to choose one of these tattoos for your next ink?