WHAT IS AQUABIKING? THE PERFECT COMBINATION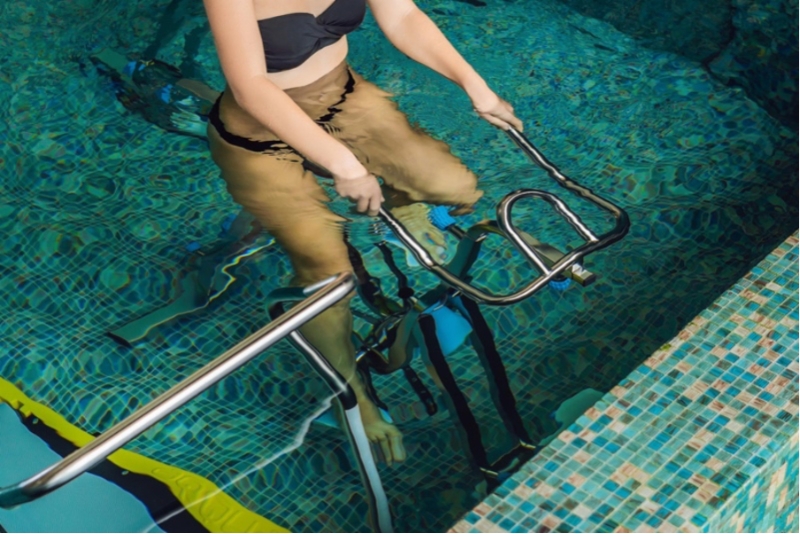 Aquabiking, an innovative discipline that combines cycling and water, has been gaining popularity in recent years as a unique and effective way to stay fit and improve cardiovascular health. We explore in detail what Aquabiking is and how it has revolutionized the world of water-based exercise.
The Concept of Aquabiking
Aquabiking, also known as Aquacycling or Hydrospinning, originated in France in the 1990s and has quickly expanded worldwide. The idea behind this activity is simple yet powerful: to combine the benefits of cycling with exercising in the water. Aquabiking bicycles are specifically designed for use in pools and allow participants to pedal underwater while the water provides resistance.
Immersing oneself in a pool for an Aquabiking session offers a unique and pleasurable sensation. Immersion in the water provides a refreshing and relaxing effect, which is especially beneficial for those looking to relieve heat and muscle tension. The water resistance creates a full-body workout, involving both legs and arms, toning and strengthening muscles.
A Versatile and Customizable Option
One of the great advantages of Aquabiking is its versatility. It can be adapted to different fitness levels and goals. Sessions can vary in intensity, duration, and types of exercises, allowing participants to customize their training experience.
Benefits of Aquabiking
Aquabiking offers a wide range of benefits for physical and mental health. Some of the key highlights include:
Low Impact: Water resistance cushions impacts, reducing strain on joints and minimizing the risk of injuries, making it suitable for people of all ages and fitness levels.
Calorie Burning: Exercising in the water requires more effort due to water resistance, leading to increased calorie burning compared to traditional cycling on land.
Cardiovascular Improvement: Aquabiking is an excellent way to improve cardiovascular health, as it raises heart rate and enhances blood circulation.
Cellulite Reduction: Water pressure on the skin helps improve circulation and reduce cellulite.
Stress Reduction: Immersing in water and pedaling provides a sense of relaxation and stress relief, contributing to improved mental and emotional well-being.
Fun and Motivation: The unique experience of Aquabiking makes exercise more enjoyable and stimulating, increasing motivation to maintain a workout routine.
Have you tried this new way to get in shape yet?