WHAT IS MEGAVALANCHE? A BIKE RACE OF MTB OVER 62 MP/H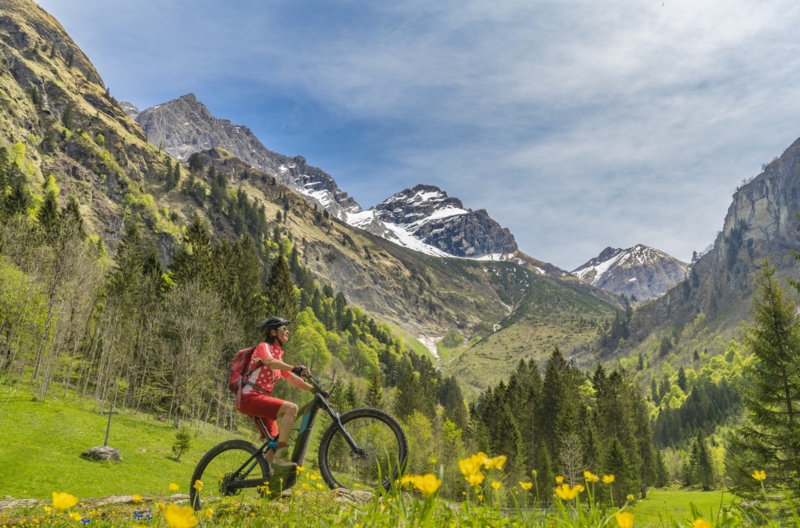 During this time of year, amateur mountain bikers eagerly anticipate the most elite downhill rides: Megavalanche and Mountain of Hell, both renowned for their challenging trails and demanding slopes. For those who ride just for leisure, attempting these races would be like wanting to participate in WWII because they enjoy playing paintball with friends. It's an understatement to say that these tracks are only for highly experienced riders!
Undeniably, both trails are extreme, but the question of which one is more intense remains unanswered. Let's find out from the safety of our homes instead of risking injury on the first turn.
What is Megavalanche?
Megavalanche is a downhill mountain biking race held annually on the French island of Alpe d'Huez. The race involves descending a glacier at high speeds before continuing down a mix of terrain including snow, mud, rocks, single tracks, and paved roads.  
It's known for its extreme difficulty and is considered one of the most challenging mountain bike races in the world.
Megavalanche vs. Mountain of Hell
Terrain
The races feature a high-speed descent down a snowy ski slope, where speeds of around 50 mph are common. For inexperienced riders who are more interested in the experience than the win, the first section can be descended slowly or by sliding down on the snow.
Both trails consist of a combination of snow, mud, sharp rocks, single tracks, downhill sections, and paved roads. In the Mountain of Hell, there is a short section where riders pass through the Les Deux Alpes resort, and for several years, they even rode through a pub, which was a nice touch. However, now the riders just pass through the streets.
The primary difference between the two races is the start. Mountain of Hell begins on a glacier, which ensures a snowy slope at the start. On the other hand, the Megavalanche start has had some bald spots over the years, making it more dangerous and less enjoyable.
Tracks
Megavalanche is a 28-kilometer downhill race that takes about 35-40 minutes to complete, with a total descent of 2,580 meters from Pic Blanc at 3,330 meters above sea level. The initial snow section is particularly challenging as the slope is so steep that even sitting and sliding down can lead to injuries. The first turn is almost 90 degrees with a snow barrier, and crashes involving multiple riders are common, often resulting in immediate exits from the race. The remaining parts of the trail are well-balanced, with steep downhill sections, single-track features, drops, climbs, and relatively flat sectors where real racing can occur.
In contrast, the Mountain of Hell is a 20-kilometer track that is non-stop knee-bendingly terrifying from start to finish. Starting at the formidable 3,400-meter-high glacier above Les 2 Alpes, the snowy part is steeper with fewer turns, and riders achieve higher speeds, resulting in crashes and injuries. 
After the first section, the trail becomes mostly a single track, and there are few opportunities to overtake another rider without going off the trail. However, the downhill sections are much more technical than those of Megavalanche, making it a favorite among riders.
Competition
Megavalanche allows a maximum of 2,000 riders to participate in the qualifiers, but only 350 will advance to the main event. It's quite a sight to witness so many bikers attempting to navigate their way down without creating a massive pileup of riders after a crash, which can and does happen frequently.
In contrast, the Mountain of Hell qualifiers only offer 1,000 free slots, but a whopping 700 will make it to the final. Racing against 700 other riders on a steep, snowy slope at speeds of over 50 mph might not seem like the safest idea, but let's face it, the danger is part of the appeal. It's an incredibly exhilarating experience that many seek out just to capture on film and share on YouTube.
Megavalanche or Mountain of Hell? Which one's better?
Determining which event is better depends on your personal preferences. If you enjoy challenging downhill rides with high speeds and sharp turns that will send shivers down your spine, then Mountain of Hell is the ideal option for you. 
However, if you want to participate in a race, and not just for the ride itself, then aim to qualify among the top 20 riders. If not, your chances of winning are slim to none, since the track doesn't offer many opportunities for overtaking, and you may end up getting stuck behind a slower rider, causing your brakes to overheat. 
It's essential to keep in mind that this experience is quite expensive, and if you cannot afford it, you will only be able to ride a part of the track, which can be frustrating since you won't be able to ride at your preferred pace!
Which one would you choose?