MOUNTAIN BOARDING: WHAT IS IT? HOW DOES IT WORK?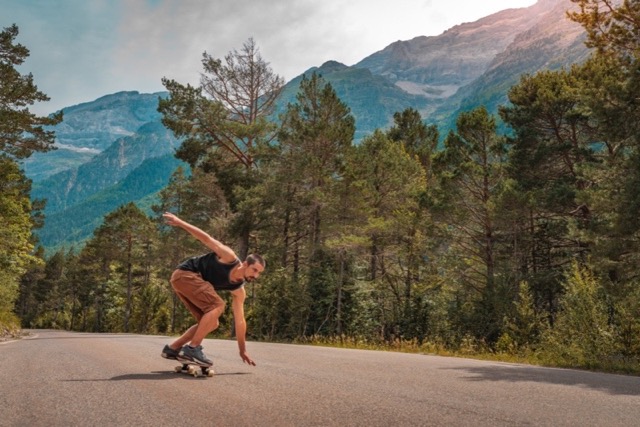 For avid snowboarders, summer is a bummer! The start of the summer season means another six months without waist-deep powder, death-defying descents, and high-flying half-pipes. For board sports fans, surfing and skateboarding are consolations, but nothing matches the smooth, controlled feel of snowboarding…
In the early 1990s, a few California snowboard bums were looking for a way to beat the summer blues. They mounted four knobby tires on a board the size of a snowboard, bolted on modified bindings, and started tearing up the grassy slopes of off-season ski resorts. The dirt, grass, and gravel tracks proved to be a little more painful than the snowy ones, but the ride was just as addictive! We're talking about Mountain Boarding!
What is mountain boarding?
Mountain boarding (MB) is an extreme sport derived from different skateboarding sports, such as skateboarding and snowboarding.
Mountainboarders can ride on all kinds of terrain such as BMX tracks, downhill, skate parks, ski resorts, streets, etc. Making mountainboarding different from other board sports.
As with most of these sports, the origin of mountainboarding cannot be limited to a single point of origin. While in the UK, Joe Inglis and Jim Aveline, looking for an alternative off-season for surfing and snowboarding, designed boards that could be ridden down hills and developed the initial prototypes, in the USA, in 1992, a group of snowboarders at Heavenly Valley Resort in Northern California, friends Jason Lee, Patrick McConnell and Joel Lopez went in search of an alternative for summer!
Finding nothing stable they founded MountainBoardSports (MBS) in 1993, to build boards that could be used to ride down the hills. The original MBS boards, known as "frame boards" had a wooden deck with metal poles to support the rider's feet.
Composition of the mountainboard
Board
The mountainboard boards are the main base, where all the other components are attached and where the rider rides. They are usually about 90 or 110 cm long and can be made of different materials.
High-quality boards can be made of carbon composites and glass-reinforced plastic, possibly with a wooden core, very similar to snowboards. The most basic boards are made from pressed plywood, with varying characteristics such as weight, flex, shape…
Trucks
Trucks are the components consisting of a suspension, damping, and axles that connect the wheels to the board. We can find different types of trucks.
Skate trucks: have a rigid axle and upper suspension, with a single bolt and bushings (also called rubbers or washers) that provide the damping mechanism for turning on the mountainboard.
Channel trucks: These are common on mountainboards, and consist of an axle mounted on the bottom piece of trucks. Unlike skate trucks, these have shock absorbers that allow for greater maneuverability when turning in a curve and help to reduce the roll of the road you are riding on.
Boot bindings
Boot bindings involve adjustable straps that keep the rider on the board while allowing room to move the feet. The most common are:
Snowboard bindings: holds the boot, they are usually plastic and have the ratchet (what you use to hold/tighten it securely to the boot) made of aluminum or stainless steel.
Ratchet strap bindings: similar to snowboard bindings with the difference that instead of using plastic, it uses a fabric material to hold the ratchet.
Velcro strap: as its name suggests, it's a Velcro strap that simulates the ratchet to adjust the foot.
Wheels
Various tires have been made available by Mountainboard manufacturers. Giving athletes a choice of tire specifications. For example, the thickness of the tire is variable between tires, usually 2 or 4 ply. The 2-ply tires are lighter but more sensitive to punctures and the 4-ply tyres are heavier and more resistant, the width and diameter are also variable.
Brakes
Brakes are generally reserved for big mountain rides, where riders need a greater ability to control their speed over long distances. There are four types of brakes used on mountainboards: drum brakes, hydraulic disc brakes, and cable-pull V-brakes.
Mountainboard protection
Helmet: they are designed to protect the wearer's head from the impact of falls. There are two types, full face, which provides greater protection for the wearer, and open face, which provides greater visibility for the wearer.
Wrist guards: are designed to protect and cushion the wrists in the event of falls and blows.
Elbow pads: protect and cushion elbows from the impact of falls.
Knee pads: designed to protect users' knees from the impact of falls.
Padded shorts: are designed to protect users' hips, coccyx, and buttocks from the impact of falls.
Body armor: is designed to protect users' upper body, arms, shoulders, and back from the impact of falls.
Would you try this extreme sport?