WHO IS TONY HAWK? THE GOD OF SKATEBOARDING
We recently talked about the best skateparks in California. So, today we want to talk about Tony Hawk, sound familiar? If you are a skateboarding lover, it sure does, we explain it to you! 😉
7 curiosities about Tony Hawk: Skateboarding at its finest
If we talk about skateboarding, it's impossible not to mention Tony Hawk, the American skateboarder who rose to fame, and who at the age of 16 was already considered the best skateboarder in the world. With his brother as his mentor, Hawk has a very interesting personal and professional history that makes him one of the most admirable figures in the world.
Icon of a sport and idol of several generations, this skateboarder has managed to become a legend that after many decades continues to transmit the passion for skateboarding. If you are interested in knowing a little more about this skating star, keep reading because here is a list of 10 things you should know about Tony Hawk if you love the skateboarding world.
1. When and where was Tony Hawk born?
Tony Hawk was born on May 12, 1968 in San Diego: the city where he has always lived. He is the third of three brothers with whom he maintains a very close relationship, as well as with his parents.
2. Did you know that during his childhood, Hawk had to face a hyperactivity problem?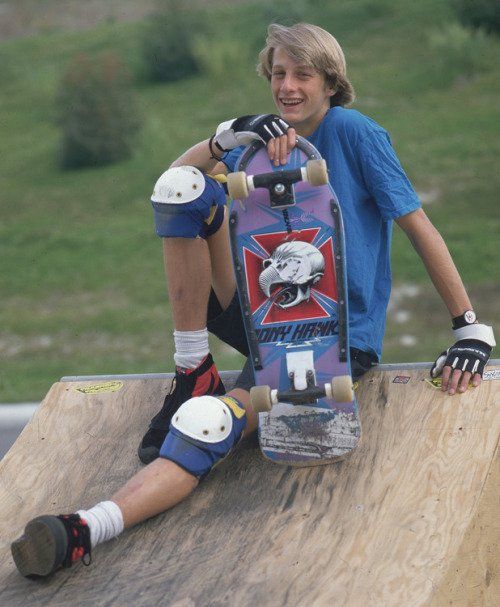 Font: Pinterest
As the skateboarder himself has defined himself, Tony Hawk was a very complicated child, and he suffered from hyperactivity and had a very high level of self-demanding. There came a time when his parents, desperate for the situation, decided to take their son to a psychologist to try to understand the situation they were living in. 
Tony's success was due to the fact that since he was eight years old with that skateboard, he didn't stop practicing in the skateparks closest to his home. The skills of this skater were so great that at the age of 12 he already had his own representative, at 14 he was already a professional and at 16 the best skateboarder in the world. A real skate crack!
Together with his brother, he founded the California Amateur League and the National Skateboard Association.
3. Who was the person who pushed Hawk to start skating?
Tony Hawk started skateboarding thanks to his brother Dany, who in 1977 gave him his first skateboard as a gift with the intention of trying to improve the hyperactivity Tony was experiencing. It was with that skate that from that moment on he began to practice this sport to the point of dedicating himself fully to it.
4. What tricks has Tony Hawk invented?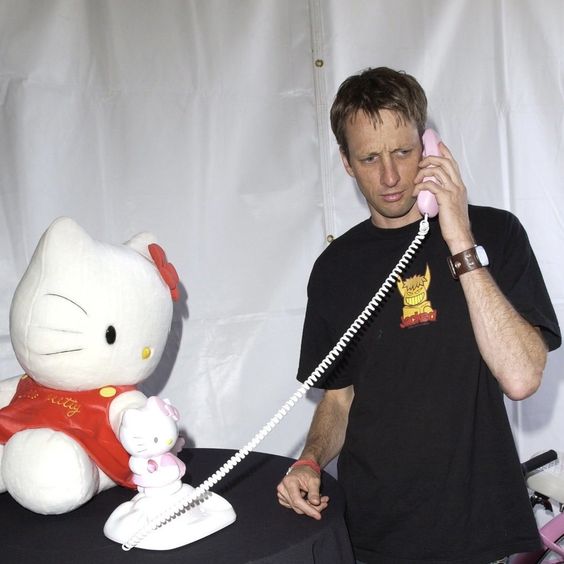 Font: Pinterest
In his long career, this skateboarder has achieved numerous accomplishments that leave few people indifferent. In 2004, Hawk already had in his resume more than 10 victories and several tricks of his own invention such as the 'Madonna', 'Benihana', 'Stalefish' and variations of the famous 'Airwalk'. 
5. The worst injury Tony Hawk suffered 
When practicing any sport, but especially one like skateboarding where jumps and pirouettes are the order of the day, it's normal for athletes to suffer injuries. Hawk is no exception, and although there have been numerous falls that the skater has experienced, undoubtedly the worst was the one that left him a year without participating in competitions  because of a broken pelvis, fractured skull, and a broken thumb.
Another problem for the skateboarder came in the early 90s, as he didn't know how to manage his expenses and squandered most of the millions he had earned skating until he had to survive on as little as $5 a day. Fortunately, with the founding of Birdhouse and the release of video games, he managed to get his finances back on track. 
6. Do you know what is the other hobby that hawk dedicated himself to for some years?
During his childhood, Tony Hawk combined his skateboarding training with his violin lessons, an instrument in which he also excelled. However, as his teacher, who saw great talent in him, wanted to take him to concerts on the weekends, a young Hawk had to choose one or the other, as he did not have enough time to devote to both.
7. He is the protagonist of some video games
In 1999 the skater signed a contract with Activision and created Tony Hawk's Pro Skater, his first video game in which he is the main character!