WHO WAS VIRGIL ABLOH? A REVOLUTIONARY OF TODAY'S FASHION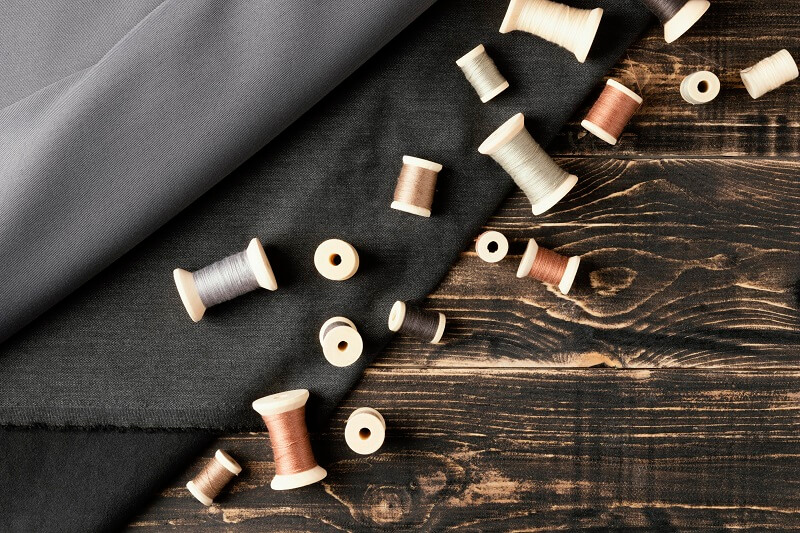 Virgil Abloh passed away at the age of 41 as a result of cancer. Virgil was the first African-American fashion designer to play a prominent role in the luxury fashion industry through the creation of the Off White label and his role as creative director of Louis Vuitton's men's line. We'll tell you more about him!
Who was Virgil Abloh?
Virgil Abloh has been one of the quintessential names in modern culture; even more so when it comes to fashion, of course. His figure and his approach, overly popular and impactful in contemporary design, have made history in every sense. First, by laying the foundations for a street style all over the world; then, as the first man of African descent to take the helm of the legendary French brand, Louis Vuitton.
Known for his industrial, urban, casual, and almost countercultural style, Virgil Abloh is today considered the most powerful—influential, and respected—designer of today. Especially if we refer to the millennial generation. His impact and his figure are such that he has rightly been compared to the greatness of Karl Lagerfeld (a pillar of women's fashion).
From his brand, Off-White, to unexpected collaborations with massive labels (such as Ikea), you can't help but get to know and delve into the life of this creative who made history before his departure. For this, ten essential points of his career.
His Origins
Virgil Abloh grew up in a middle-class Chicago neighborhood as the son of Ghanaian immigrants. During his formative years, Abloh's father ran a painting company, while his mother was a seamstress.
He initially trained as an architect
At the University of Wisconsin-Madison, he studied civil engineering. Abloh then went on to earn a master's degree in architecture at the Illinois Institute of Technology. Interested in postmodern architectural style and deconstructivism, the designer combined the sewing lessons he learned from his mother with what would become his greatest destiny: fashion design.
He began, like many, with a blog!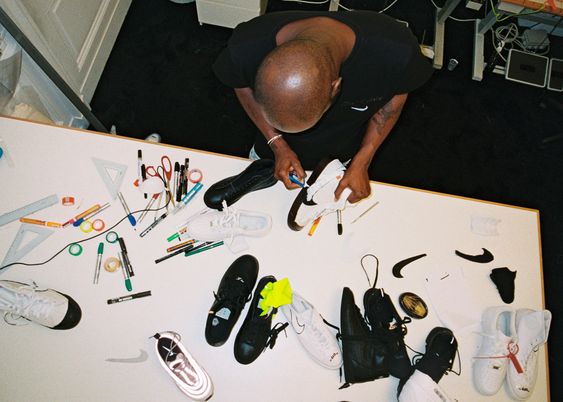 Pinterest.
Inspired by his mother, his studies, and the street culture of Chicago, Abloh began exploring the world of fashion by designing T-shirts, while also contributing to a popular street fashion blog, The Brilliance.
Virgil Abloh with Kanye West
A friendship that changed design, music, and fashion in ways we never imagined.
During his graphic work in Chicago, Abloh met Kanye West, who immediately recognized his creativity and talent. West asked him to work on the merchandising and visuals for his album Graduation. Thus began a friendship that, combining hip-hop, art and fashion, revolutionized the world as we know it today.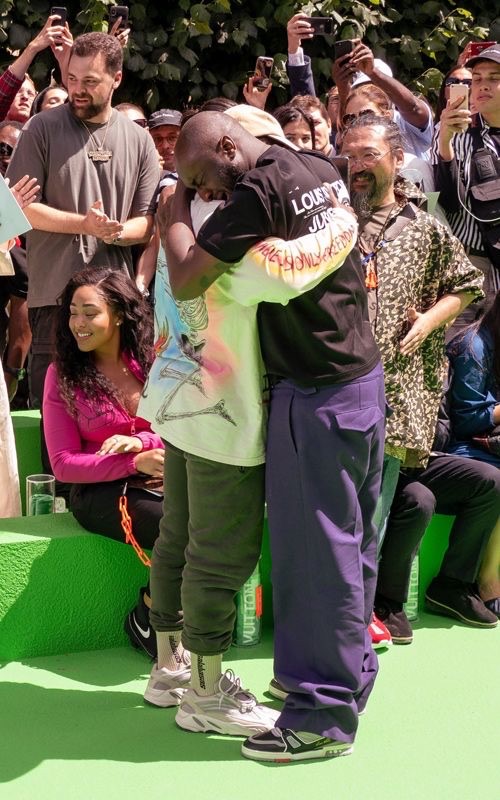 Pinterest
Internship in the fashion system
In 2009, Abloh and West began an internship at Fendi. It was there that the two were educated in almost every area of design. It was there that Michael Burke, former CEO of Louis Vuitton, first saw the work of this genius.
His first brand
Abloh's first effort to start a fashion brand was in 2012 when he launched a company called Pyrex Vision. His mission was to appeal to youth culture, producing every day and hyper-familiar clothing with a new twist.
Off-White
Shortly after closing Pyrex Vision, Abloh founded Off-White. A brand that would go on to become a huge success with 10.6 million followers on Instagram and whose strategies to increase its presence in pop culture was to collaborate with prominent brands such as Nike, Levi's, Moncler, Timberland, and Champion.
The Ten
Speaking of Off-White's collaborations, arguably the most important of his career was when Nike called him to take charge of a collection of 10 of the brand's classic trainers.
Dubbed The Ten, the collection consists of the redesign and interpretation of ten iconic Nike silhouettes. This is still considered the most over-the-top sneaker release of its decade and, perhaps, of all time.
Fashion Impact
In 2018, Abloh made history when he was appointed artistic director of the men's ready-to-wear line at Louis Vuitton. That same year, he appeared on Time magazine's list of the 100 most influential people in the world.
High-end street fashion
Abloh is considered one of the pioneers of "high" street fashion. Something he has called a post-streetwear movement. An aesthetic that originated in hip-hop and skate culture, as well as in the more dystopian scenes of the big cities.
When these lines between luxury and streetwear were torn down under the influence of his creative mind, everywhere began to follow this pattern of a new order and a new way of understanding fashion. From Dior working with designs by Travis Scott to Gucci collaborating with Dapper Dan.
The end of Virgil Abloh
On 28 November 2021, at the age of 41, designer Virgil Abloh sadly passed away from cancer (cardiac angiosarcoma); an illness he had been fighting for the last two years, privately.