10 BEST INDIE MUSIC FESTIVALS AROUND THE WORLD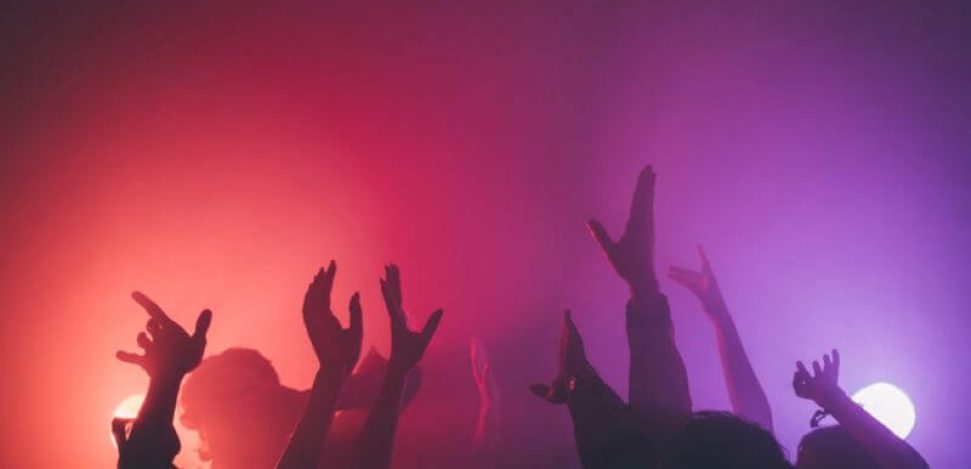 The definition of indie music is so broad that it covers many areas. Many bands that started as independent have ended up being stars with great success, such as Lori, Dover, Meyers, and Supersubmarina. If you are a fan of indie music, keep reading because this summer you are going to go to the best indie festivals!
10 Best Indie Music Festivals
Indie festivals were born in the nineties as a meeting point for lovers of alternative pop rock. The music scene lived in its den, isolated from the commercial radio formula and closed to anything that didn't sound as traditional. But, little by little, as it emerged from the underground, it opened first to electronics, then to world music, then to the mainstream, and now to urban movement!
Mad Cool
Mad Cool has become one of the most acclaimed festivals. In addition to great pop figures such as Noel Gallagher's High Flying Birds, Iggy Pop, The Smashing Pumpkins, The National, Vetusta Morla, Teenage Fanclub, The Cure, Cat Power, Gossip or Lauryn Hill, in 2019, Rosalía also appeared!
Mad Cool is now the new king of festivals in Spain, they closed in 2019, with more than 240,000 attendees! Also, they expanded the relaxation areas and the restaurant areas, they have eliminated a "stage" to have more spaces for the flow of the public, eliminated the VIP areas in front-stage, improved the entrance hall to the enclosure, the entrances, and the WC! 
If you like indie music, you have to go to Madrid to enjoy this experience. In 2022, it will last a total of five days: July 6, 7, 8, 9, and 10! 
Font: Mad Cool Festival https://bit.ly/3oWt0eH 
Monkey Weekend
At this festival, you can enjoy legendary bands like Flamin 'Groovies, and established artists like Joe Crepúsculo, Los Hermanos Cubero, or José Domingo.
But above all, at Monkey Weekend you also will discover emerging groups such as Ex-Boyfriends, Los Estanques, Aries, Antifan, El Grajo, Rastrejo, or Bronquio! 
The Monkey Weekend festival is back for a new edition in 2022, which will take place in the city of El Puerto de Santa María! It returns like every year with the best groups and artists on the music scene of the moment. 
The date and the groups that will be there aren't yet known, but it's going to blow it!
Cruïlla
Cruilla is a festival that has been held since 2008. It takes place at the Barcelona Forum and it's characterized by the diversity of music and sounds. In addition, you can also see theatrical performances and enjoy the typical gastronomy of Catalonia.
It's always celebrated for 4 days during July. The good thing about this festival is that they defend the diversity of sounds and styles. This is what we like the most about Cruilla. 
The festival has a village with food trucks, hairdressers, or virtual reality games!
The Cruïlla Barcelona 2022 Festival has announced that it will return to the Parc del Fòrum de Barcelona on July 7, 8, and 9, 2022, after overcoming the pandemic in its previous edition.
After the last edition where the festival brought together bands such as Two Door Cinema Club, Morcheeba, or Novedades Carminha, among others, Cruïlla Barcelona 2022 will return to the Catalan capital with the best of national and international independent music!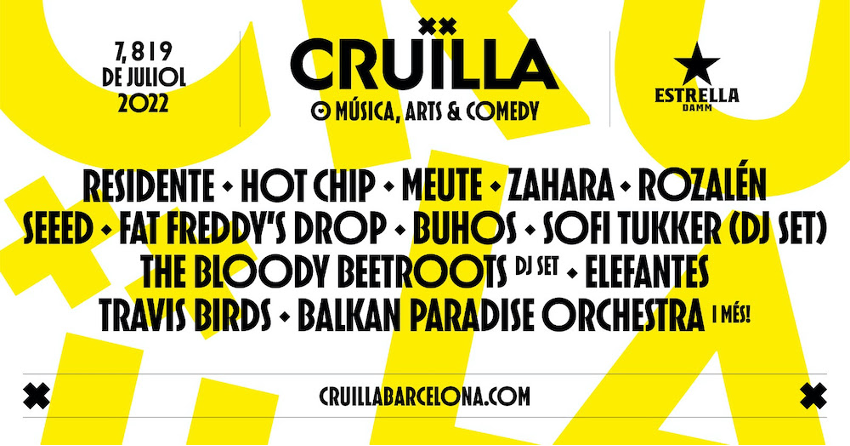 Font: Cruilla cruillabarcelona.com 
🌞 ¿Do you
prefer
going to festivals in Summer?
Discover
our
list
of
the
best Summer Music Festivals
Doctor Music
The festival was one of the first in Spain of a large format, and now it returns to make it an unrepeatable event!
Big names have passed through its stages such as David Bowie, Bob Dylan, Lou Reed, Patti Smith, Rage Against the Machine, Iggy Pop, Beastie Boys, Massive Attack, Muse, Blur, Pet Shop Boys, Nick Cave, Bad Religion, Megadeth, Slayer, Dream Theater, Portishead, Underworld, Carl Cox, among many others.
The date and the groups that will be there aren't yet known, but it won't be long before you can enjoy this experience in 2022! A secret, it's expected to be in July! 😉
FIB
Fib is one of the best-known indie music festivals and is a benchmark within and outside the national scene, which emerged in 1995!
A festival that brings together the best national and international bands and that is committed to diversity and respect.
The FIB is held in the town of Benicàssim where you can also enjoy its gastronomy and its beaches during all days of the festival. It will be from July 14 to 17, 2022! 
The FIB has several camping areas, so get ready to have a blast!
Low Festival (Benidorm Festival)
The Benidorm independent music festival is held year after year in July.
Enjoy the four main stages of the Low Festival and become a true Lowers, with alternatives of different musical genres and artistic proposals, and in which no more than 15 minutes are overlapped between the two largest stages!
Bands and artists such as Kasabian, Foals, Izal, LA, Full, Delafé, and Las Flores Azules, The Libertines, The GoT eam, Supersubmarina, TheDrums or La Bien Querida among many others have passed through the Benidorm festival, before changing their name, since before the Benidorm festival was called Low Cost Festival.
Held at the Guillermo Amor Sports City – Benidorm during July 29, 30, and 31, 2022.
Arenal Sound
Arenal Sound is a music event held in the city of Burriana, which has become one of the most visited music festivals, with over 300,000 attendees in its latest edition.
The first indie festival that dared to include a superstar from the new urban scene was Arenal Sound from Castellón, which last year unleashed controversy by signing the Puerto Rican Bad Bunny.
It will be held in 2022 from August 2 to 7 in Burriana / Castellón. 
Primavera Sound
Are you into independent music and urban festivals? You can't miss Primavera Sound! It's always coming with popular artists! Also, the atmosphere is amazing and impressive. 
It's located in the Parc del Fòrum and it has a lot of services, from chill-out areas to restaurant services! It's, undoubtedly, one of the most famous festivals in all of Europe. 
Primavera Sound 2022 will be held from June 2 to 12 at the Parc del Fòrum in Barcelona! The Catalan festival will celebrate its twentieth anniversary after the cancellation of the 2020 and 2021 editions due to the health crisis caused by the coronavirus.
Font: Primavera Sound 
🤘Do you know about one of the most iconic moments in contemporary culture?
Learn
about
the
Woodstock
Festival
!
Bilbao BBK Live
Every year, Bilbao BBK Live surprises us with a new poster, a list of groups of international level, which attracts thousands of people to the capital of Bizkaia. This festival is held annually in July, a month of great tourist influx in Bilbao!
After more than 10 years of Bilbao BBK Live, after many years of success, after the visit of top-level groups such as The Cure, Green Day, Coldplay, Metallica, or Red Hot Chili Pepper, this Basque festival has become a benchmark musical internationally. 
Held on July 7, 8, and 9, 2022 in Bilbao!
Sonorama
Second, Fuel Fandango, Carolina Durante, Zahara, Miss Caffeina, La Orquesta Mondragón, Tequila, Tarque, Depedro, Fangoria, or Love of Lesbian are some of the Spanish stars of a festival that always bets more strongly on this national product. 
The Sonorama Ribera will return to Burgos from August 10 to 14, 2022 with the best national indie music and an atmosphere within the city difficult to find elsewhere.
We remind you that on its last visit to Aranda de Duero, Sonorama brought together groups such as Love Of Lesbian, Miss Caffeina, The Vaccines, Crystal Fighters and Nacho Cano, among many others, in addition to offering multiple concerts in different locations in the Burgos town.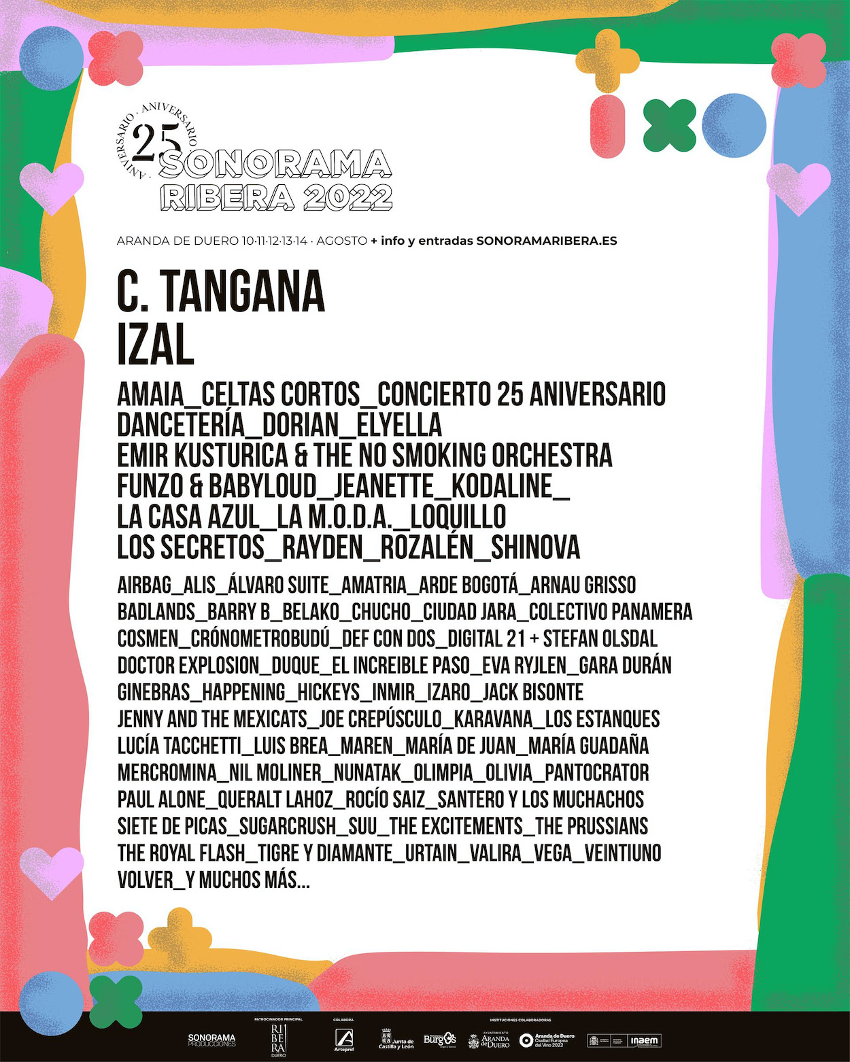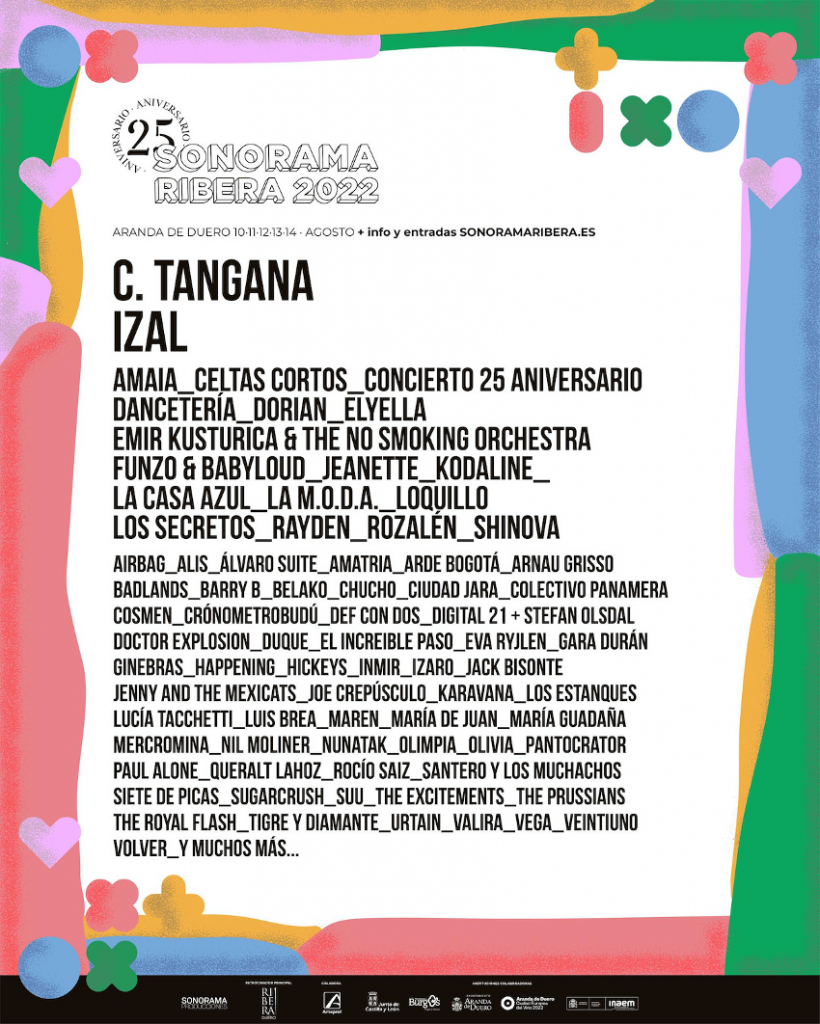 Font: Sonorama 
Which of these festivals will you go to this new year? 😉