BEST APPS FOR SUSTAINABILITY: TECH TO AN ENVIRONMENTAL-FRIENDLY WORLD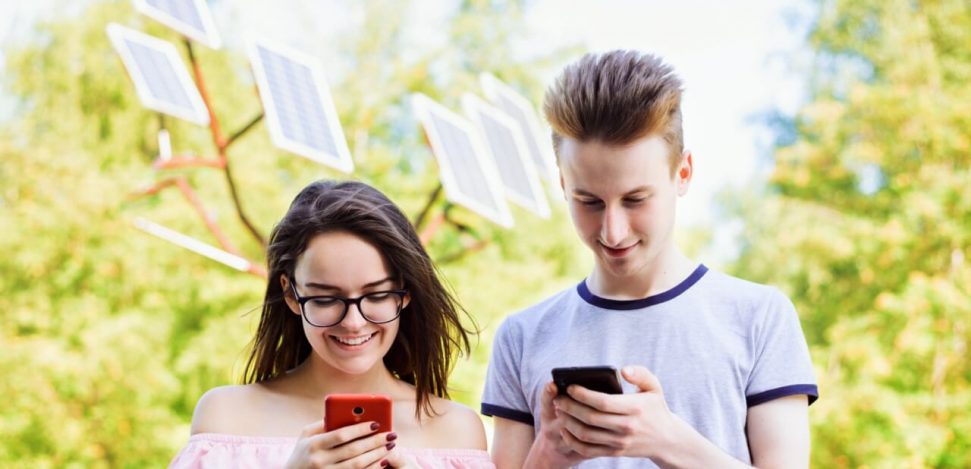 Today, all smartphones have the possibility of downloading an infinite number of applications of all kinds and uses. You can access an eCommerce store, find the best place to go to eat, and an app to help you do sport. An infinite number of simple options are at your fingertips 😉. But, are there any apps that help the environment?
Technology can help the environment!
Mobile devices can also help us take care of the environment. How? New technologies bring more benefits to the environment thanks to renewable energies!
Another great help from Technology is how it can help us to lead more sustainable lifestyles with more info at our hands. Nowadays, there are a lot of Apps that can give us tips and tricks to reduce our carbon footprint.
There are apps with plant-based recipes, apps that help local businesses like restaurants and cafes, not to throw out unsold food and contribute to a circular economy.
The best Apps to take care of the environment!
Within the glossary of the most outstanding apps to lead a more sustainable living are the following:
Breezo Meter
Monitor air quality. Thanks to this app, you can reduce exposure to poor air quality, as well as find out about the weather and receive fire alerts. It also gives you data and tips for a greener lifestyle.
Vinted
This app gives clothes a second chance to help reduce consumption and live a more circular life. There are more and more applications that are dedicated to the exchange of used or new clothes. Vinted helps the textile industry to see the textile industry differently: an exchange and circular approach!
We must remember that the fashion industry is one of the most polluting industries on the planet. Did you miss our post about Slow fashion? We dare you to start changing your clothing shopping! Vinted and second-hand stores can change it entirely!
MyUse
It's becoming increasingly difficult to achieve more responsible and environmentally friendly consumption. So, the use of certain energy resources must start to be taken more into account!
If you want to become more energy efficient and avoid waste, this app is for you! With the help of the data this app, gives you, you can practice more efficient consumption. It will also help you to think about what actions you should incorporate to avoid waste and how to save energy in our homes.
Go Green Challenge
Do you want to carry out activities to help reduce environmental impact? This app will help you and give you rewards!
The way the activities are programmed is very entertaining and simple to carry out. The different challenges encourage you to participate and achieve different goals.
Ecosia
It's an app that "plants trees". Yes, that's right: it plants trees with a click. This app was created to get profits from your searches on the internet. It's thanks to your searches, that reforestation programs are supported. Its aim is to obtain financial support for reforestation!
You'll be able to see that the app works! Ecosia publishes the number of trees planted on a weekly basis, so you can keep track.
Environmental Challenge
This application gives a lot of information about "making the planet a better place for future generations".
The app is based on challenges that are put into practice through different actions that give you tools to learn how to take care of planet earth.
Sustainable Goals: Zero Waste
The eco-friendly app offers many challenges! Its principle objective isn't to generate daily waste, and it has different tools to meet the goals to save energy, and everyday products, reduce food waste, etc.
AprenVerde
It's based on the 5 fundamental pillars of the United Nations. Do you know what they are?
– Housing
– Transport
– Shopping
– Leisure
– Food
This app has the main objective of teaching ecological concepts to help reduce the damage to the planet!
It also gives you "Eco Tips" and "Eco Challenges" to share on social networks, and creates challenges to interact with friends. This way, it helps create a team dynamic for a more sustainable life.
Did you know all these green apps? You should give them a try!