THE MEANING BEHIND THE SEMICOLON TATTOO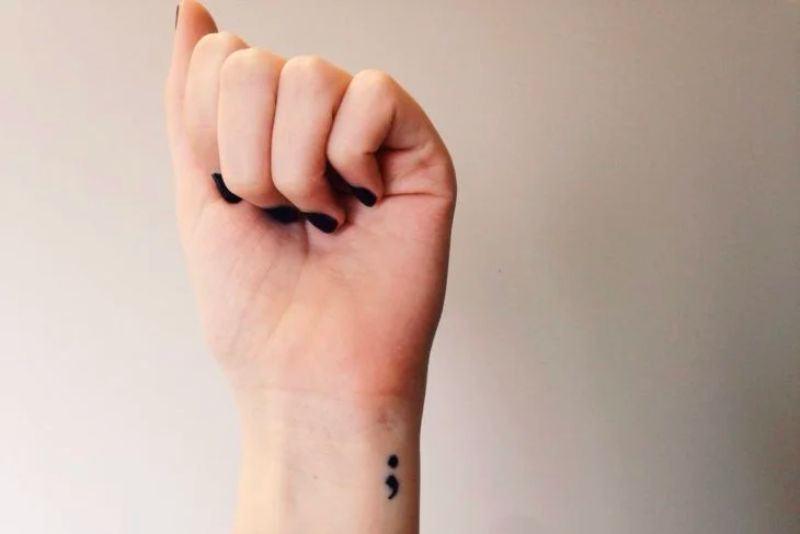 Although tattoos do not always have to have a deep meaning, over the years, they have become a way for many people to express their feelings, tastes, or hobbies. For these types of people, their tattoos are a way of reflecting their life and we could even say that it is almost their own diary.
As we mentioned in our previous article about the best idea for wrist tattoos for women, punctuation marks have become one of the best ideas since each punctuation mark has a specific meaning. The semicolon tattoo has a very special meaning. Do you want to know the meaning of the semicolon tattoo? 
Keep reading this article because we will discuss the different meanings, their origin, and some curiosities about this tattoo!
WHAT DOES THE SEMICOLON TATTOO MEAN?
Although tattoos can have multiple, very different meanings for each person, we want to highlight in this article what we consider to be one of the most important meanings for this type of tattoo.
The semicolon tattoo is really important for many people since, through this small symbol, it is intended to represent self-love, hope, and struggle with depression. This tattoo has become a symbol of hope in difficult times for many people.
In this way, the people who get the semicolon on their bodies want to represent their own fight against anxiety, depression, suicide, and their victory over it.
In addition, more and more people who, although they have not suffered these types of problems, want to express their solidarity with those who struggle every day with their mental health issues.
THE PROJECT SEMICOLON
As we have mentioned previously, this tattoo has a great meaning for many people, and its true meaning arises through a movement generated on Twitter in 2013.
This became a movement known as Project Semicolon and they used the sign semicolon punctuation to make an analogy with the situation they wanted to reflect. Through the semicolon, you can express that a sentence does not end, but continues in another way.
The Project Semicolon was created by Amy Bleuel who decided to do something symbolic to always remember her great effort and struggle to overcome all the situations she had to experience. Amy had to fight depression and other problems such as abuse and rape.
After this fight, she decided that getting a semicolon tattoo would represent how she managed to overcome all adversities and also as a way to honor her father, who died by suicide in 2003.
In 2013, as a result of the great impact that the movement had, she decided to create the Project Semicolon, a non-profit organization that has the semicolon as its characteristic symbol. Its main objective is to create a space that works on suicide prevention by raising awareness of a problem as important as depression. As indicated in @projsemicolon, Project Semicolon is a movement dedicated to presenting hope & love to those who struggle with mental illness, depression, suicide, addiction & self-injury.
In addition to sensitizing society, the aim of The Project Semicolon is to offer different communities the necessary tools so that they can promote the importance of mental health.
Thanks to all the work done by this organization, since April 2017 they have helped more than five million people. We cannot forget that currently, millions of people around the world suffer from mental problems related mainly to depression and anxiety and that is why projects like Amy Bleuel's are so necessary.
SEMICOLON TATTOO DESIGNS
As we have mentioned, this type of tattoo is very personal since it represents personal growth. It is for this reason that to end this article we want to show you some of the best designs for all those people who want to symbolize their struggle and progress in a special way.
Semicolon + Heart Tattoo
What better way to represent the love of life and self-love than through a tattoo that merges the tattoo design of a semicolon and a heart. Currently, there are numerous designs that combine these two elements creating a truly unique and personal design.

Semicolon + Birds Tattoo
Another design that we want to comment on is the combination of birds with the punctuation mark. Birds represent freedom and therefore, we consider it another of the most special combinations that you can get a tattoo.