SUMMER FESTIVAL OUTFIT IDEAS. THE BEST LOOKS!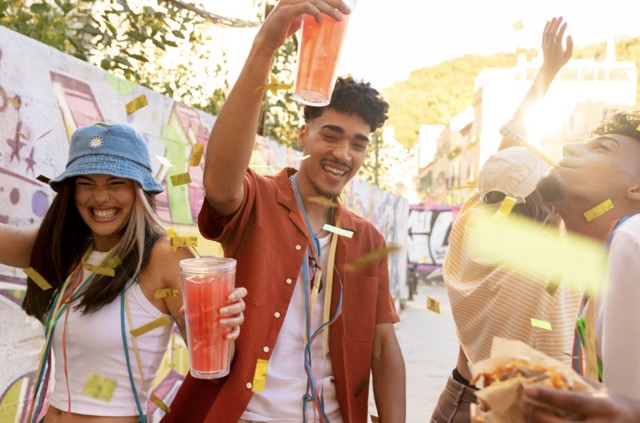 Have you ever found yourself staring at a closet filled to the brim with clothes and still feeling like you have nothing to wear to go to that festival you were willing to go to? It's a common problem, but instead of assuming you're out of options, consider that you might just need a fresh dose of inspiration. That's where Outfit Dump comes in – we've got plenty of festival outfit ideas to help you see your wardrobe in a new light and get your style back on track!
Despite the absence of festival fashion icon Vanessa Hudgens, the first weekend of Coachella 2023 was still filled with plenty of outfit inspiration. Surprisingly, the attention was focused on more relaxed looks, such as Zoey Deutch's comfortable T-shirt, mini skirt, and sneakers. This shift in festival attire suggests that easy-going, comfortable looks may be becoming more popular. 
As summer approaches, festival fashion trends can inspire your warm-weather wardrobe, from breezy button-downs and kaftans to updated Y2K styles featuring rosette appliqués and baggy silhouettes. Check out some of our top picks from Coachella and beyond to inspire your summer dressing this season!
FUNNY HAIRSTYLES: HAIRCUTS THAT WILL MAKE YOU LAUGH!
Musical Festival Outfits Ideas that will inspire you
Leather-on-leather
If the idea of wearing leather during hot summer weather makes you feel uncomfortable, then you might want to skip this trend. However, it's worth noting that two-piece sets made from this durable material (or its vegan alternatives) are becoming a popular and fashionable choice for the upcoming season. This glossy outfit formula is worth considering if you're looking to make a statement with your summer wardrobe.
Swimsuit as a top
Looking for a simple and stylish way to wear your button-down shirt this summer? Try leaving it open and layering it over a black bikini top. Pair the top with some jeans to complete the look. This will create a casual, yet put-together outfit that's perfect for the beach or a day out in the sun.
Don't reserve your best one-piece swimsuit just for the water this summer. Instead, turn it into a stylish summer outfit by pairing it with sneakers instead of swim shoes. This unexpected combination can create a fashion-forward and playful look that's perfect for a day out in the city or a casual hangout with friends. Not only will you be comfortable and cool in your swimsuit, but you'll also look effortlessly chic.
Scarf top
Storm Reid, the fashion icon of the Gen-Z generation, is bringing back the early-2000s scarf top trend, and we're loving it. This throwback style has been making a comeback in recent years, and Reid is putting her modern twist on it.
With her unique sense of style and eye for fashion, she's making the scarf top look fresh and current. We can't wait to see what other fashion trends she brings back into the spotlight!
Florals
Are you worried that you might be wearing too many floral prints in your outfits? Don't worry – there's no such thing as overdoing it when it comes to this classic print.
Florals are a timeless and versatile pattern that can be worn in a variety of ways, from bold and colorful to subtle and muted. Whether you're incorporating floral prints into your dresses, tops, or accessories, this trend is always in style and can add a touch of femininity and romance to any outfit. So go ahead and embrace the florals – there's no such thing as too much of a good thing!
Belly Chain
We're loving the combination of a bra top and a belly chain, and the addition of a butterfly motif necklace takes the look to the next level. This trendy and daring outfit is perfect for the festival season or a night out with friends.
The bra top and belly chain show off your midriff and add a touch of sexiness to the outfit, while the butterfly motif necklace adds a whimsical and playful touch. This outfit is not for the faint of heart, but if you're feeling bold and confident, it's a perfect way to show off your unique sense of style!
Y2K butterflies
If you haven't already heard, the early 2000s are making a major comeback in fashion, and that means more butterflies than ever before.
This playful and nostalgic trend has been popping up on runways and in streetwear, and it's not showing any signs of slowing down.
Whether you're incorporating butterfly motifs into your jewelry, clothing, or accessories, this trend is an easy way to add a touch of whimsy and nostalgia to your wardrobe. So embrace the butterfly trend and have fun with it – the more butterflies, the merrier!
Chunky sneakers
If you're looking for a way to dress down a sparkly kaftan, look no further than adding some chunky sneakers and funky patterned socks to the mix. This unexpected pairing adds a touch of edge to the glamorous kaftan.
The chunky sneakers add a comfortable and practical element to the outfit, while the patterned socks add a playful and unexpected pop of color and pattern. This look is a masterclass in combining different styles and elements to create a cohesive and unique outfit that is both stylish and comfortable. So don't be afraid to mix and match your favorite pieces and experiment with different styles – you never know what unexpected combinations might just work!
Babydoll dress
The combination of a black bow, black boots, and a baby doll dress is a sweet and summery outfit trifecta that is both feminine and edgy. The black bow adds a touch of sophistication and elegance to the baby doll dress, while the black boots add a tough and rebellious element.
This unexpected combination creates a unique and stylish outfit that is perfect for a summer festival!
What outfit do you have in mind for your festival?