GRAFFITI IN BERLIN: WHY IS THE GRAFFITI CAPITAL OF EUROPE?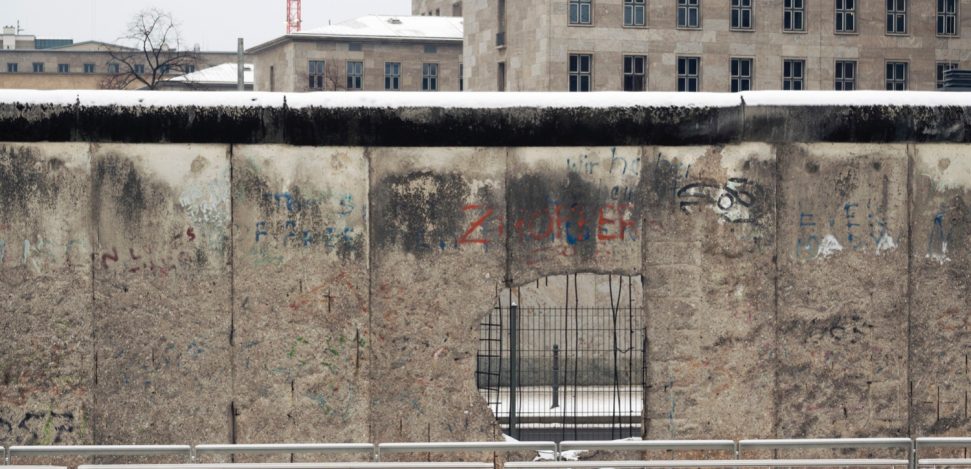 We recently talked about graffiti and also about the famous work of art "the kiss", which is located in Berlin. Graffiti is art, and today we want to talk about the city of Berlin and why it is considered as the Graffiti Capital of Europe. If you love art or you are a graffiti artist, you will love this article!
Berlin, the capital of graffiti
Today graffiti can be seen in thousands and thousands of cities, but only in Berlin can you see great works of art, and that is why it's considered "the European capital of graffiti".
As you may already know, the 1961-1989 Wall was located in Berlin. This wall was a paradise for graffiti artists. For example, Keith Haring and Thierry Noir began to paint it, on the western side, in 1980.
The fall of the wall also inspired other urban artists and writers to make their mark with spectacular artwork. This is called street art and it's despised and branded vandalism, although there are also many other people who know what it really is: art.
And what about Berlin graffiti? They rarely disappear or take a long time to do, and this means that in Berlin, urban art has become a normal part of the city.
The special anti-graffiti task force
This group didn't emerge until 1990 and neither does it have a valid economic power to carry out its function. Even so, they tend to be charged 15 times a week with fines ranging from $ 135 to thousands of dollars.
Bonn, for example, up to € 90,000 a year to fight graffiti. But many other cities in Germany provide spaces on different walls so that graffiti artists can make their art without breaking the law.
In Berlin, apart from great works of art on the walls, many trains are "tagged" on the windows, or there are simply graffiti artists who are "tagged" on top of the great works of art found on the East Side Gallery on the Berlin Wall. 
So, Berlin is not only considered the capital of graffiti for its great works but many non-artist graffiti artists set out to spoil great works of real graffiti artists.
The line between art and vandalism
So what is the line between art and vandalism? If it's true that great German or Swiss artists began being considered themselves as vandalists for the simple fact of making works of art on different walls. For example, Harald Naegeli was considered a criminal before being one of the most recognized artists.
There are large murals made by German artists such as Loomit by Mathias Köhler, CanTwo by Fedor Wildhardt and DAIM by Mirko Reisser. Peter-Ernst Eiffe was the first serious graffiti artist in all of Germany. 
Difference between street art and "tagging"
Real graffiti is considered an art, a work with artistic merit, while "tagging" is just that, a "tagging" by a graffiti artist who just wants to hang out, and does that on private or heritage properties, or even on top of real graffiti.
So why is Berlin the European capital of graffiti?
Berlin has the highest number of graffiti in all Europe, especially since great artists began to paint on the Berlin Wall inspired by the situation of the Second World War. In addition, the remains of the wall also began to become great works of art, such as "The Kiss", currently the most famous and recognized work of street art in the world.
4 Famous graffiti in Berlin
The Kiss
"My God, help me survive this mortal love" is the real name of the most popular graffiti in Berlin. It was the inspiration for a 1970 photograph of a Russian politician kissing another man. It's currently a work highly defended by the LGBTQ community.
Yellow Man
A comic piece, created in 2014, can be seen painted on this wall. It has become an important symbol of the neighborhood. The artist is a pair of twins, Otavio and Gustavo Pandolf. The painted figure is a genderless person who comes from a place full of yellow creatures.
Obama, Merkel, Putin
Three leaders, Barack Obama, Angela Merkel, and Vladimir Putin are featured in this neon watercolor artwork. In addition, these three characters appear in the position of the three wise monkeys: "see no evil, hear no evil, speak no evil."
Wrinkles of the City
The French artist JR, passed through Berlin and left his mark with a great work of art: a series of graffiti called "Wrinkles of the city" that is located in 15 different buildings in the center of Berlin.
With this work, the artist seeks to unify human beings to make a beautiful place in the world, a better place. And it can not only be seen in Berlin but also in Spain, in Shanghai, in Los Angeles, and Istanbul.
The 15 works that are in Berlin represent different Berlin elders. They are located in important places in the city such as the Berlin Wall.