INFECTED SNAKE EYES PIERCING: TIPS TO CURE IT QUICKLY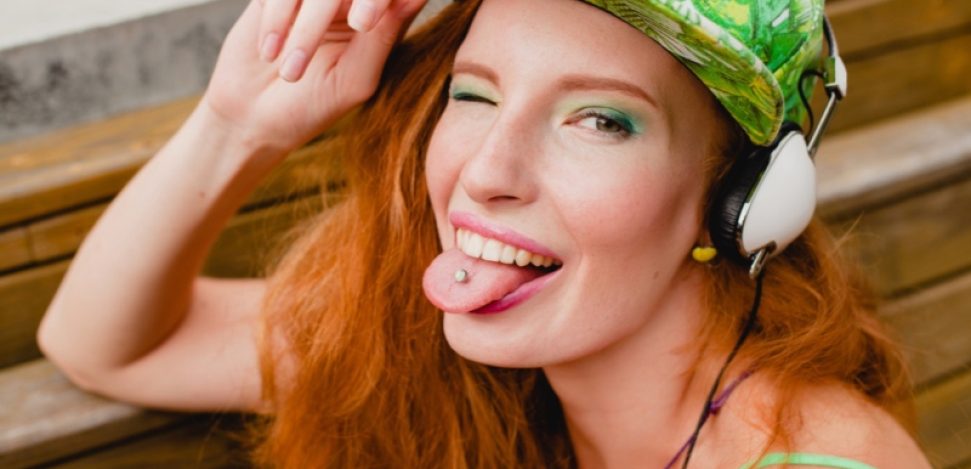 Snake eyes piercings aren't suitable for those lacking courage. People who choose to undergo these piercings must possess a considerable amount of bravery, as the potential complications associated with them are quite extensive.
For certain individuals, this is actually part of the attraction! Being aware that you possess the fortitude to embrace a snake eyes piercing can instantly elevate your sense of being a confident and daring individual.
But what happens when this piercing is infected? We want to provide you with a clear understanding of the commitment involved when opting for a snake eyes piercing and to help you recognize potential signs of infection that you should remain vigilant for!
What is a Snake Eyes Piercing?
A snake eyes piercing involves the piercing of the tongue in two separate locations near  the front of the tongue. When the individual with a snake eyes piercing opens their mouth, the piercings create the visual effect of two snake eyes gazing outward.
However, the intricacy doesn't end there. Although observers might perceive it as two distinct piercings, a horizontal straight or curved barbell is inserted through the tongue, linking the two piercing sites together.
The Process of Getting a Snake Eyes Piercing
When you enter a piercing studio to receive a snake eyes piercing, the procedure unfolds through several specific steps. This piercing necessitates a high level of precision to minimize potential complications. Here's a breakdown of what you can expect:
Placement Marking: To ensure accurate placement and avoid potential complications, your piercer will use a surgical marker to mark both piercing locations on your tongue.
Tongue Clamping: A clamp will be employed to immobilize your tongue, preventing any movement that could lead to accidental vein puncture.
Needle Insertion: A hollow needle will be carefully passed through your tongue at the marked sites.
Jewelry Insertion: Following the needle insertion, the jewelry will be threaded through the piercings. The studs will be positioned on both sides of the front of your tongue, while the connecting barbell will be concealed within the tongue.
Snake Eyes Piercing Pain 
While the idea of undergoing a procedure involving the insertion of a small bar and creating two holes in your tongue might trigger anxiety, surprisingly, this piercing is less painful than one might initially imagine!
For many individuals, the sensation is comparable to the feeling of having bitten their tongue forcefully while chewing something. Pain is subjective, varying individually. What may be perceived as intense discomfort by one person might barely register for another, and this range depends on one's personal pain threshold and overall resilience.
Your capacity to tolerate pain and your mental attitude toward it play significant roles. Some individuals may hardly feel any discomfort, while others might express discomfort over an extended period. 
Distraction techniques can also influence the pain experience. Focusing your attention away from the impending procedure could help mitigate your awareness of the pain. Ultimately, the extent of discomfort is influenced by your personal pain tolerance and psychological coping mechanisms.
Snake Eyes Piercing Infections 
Encountering an infection in your freshly pierced area is undeniably disheartening. However, dealing with an infection in your mouth poses even greater challenges. 
The discomfort makes eating a struggle, and the visual aspect can be rather intimidating. Notably, infections in tongue piercings are more hazardous compared to other locations, such as earlobes. Due to the tongue's role in facilitating the spread of infections, extra caution is warranted.
It's essential to recognize that infections can be effectively treated. With vigilance and proper care, you can minimize the likelihood of encountering infections during the critical healing period of the first two months. Below are signs you should be attentive to during this healing phase.
Swelling
During the initial week following a snake eyes piercing, it's normal for your tongue to appear thicker than usual due to the stress it has undergone. Nonetheless, swelling can also be indicative of infection. Monitor whether the swelling is subsiding, remaining constant, or worsening. 
After the initial days, the swelling should gradually diminish. If you notice an escalation in swelling at this point, seek medical attention!
Pain
Anticipate experiencing discomfort for several weeks after undergoing a snake eyes piercing. While this is to be expected, remember that pain can also signify an infection. If the pain becomes unbearable, it's prudent to consult a healthcare professional. 
If the pain becomes increasingly intense beyond the initial week following the piercing, it's prudent to consider the possibility of an infection.
Redness
If your piercing site resembles the aftermath of indulging in cherry popsicles, caution is warranted. Redness could indicate the onset of an infection. 
If you observe red lines radiating from the piercing site, this is a clear sign of infection. In such cases, promptly consult a doctor and seek immediate attention. 
Discolored Tongue
While redness is concerning, any other unusual hue on your tongue should sound the alarm. A greenish, purplish, yellow, or blackish appearance on your tongue could signify a severe infection. 
In such cases, consulting a doctor promptly is imperative! Following a medical evaluation, antibiotics are likely to be prescribed for treating the infection. 
How to Treat a Tongue Piercing Infection
Avoid Manipulating or Extracting the Jewelry
Refrain from manipulating or relocating the jewelry as it can exacerbate swelling and irritation, and potentially introduce fresh bacteria into the piercing openings.
The only instance in which you should handle the jewelry is during the cleaning process.
Aside from causing additional irritation, removing the jewelry may lead to premature closure of a recent piercing. This scenario could trap bacteria and facilitate the spread of infection beyond the piercing site!
Practice Regular Cleansing, Two to Three Times Daily!
Consistent cleansing is pivotal in purging bacteria and mitigating further irritation. Ideal intervals for cleansing are morning and night. Additionally, you may contemplate rinsing with a saline solution after each meal.
Don't bother with OTC antibiotics or creams
So, people have been using those over-the-counter antibiotics for ages to fight infections, right? Well, guess what, those little guys won't do jack for your piercings. They might even mess things up more than help!
And don't even get me started on those creams and gooey stuff. Slapping them on can basically lock in the bacteria, turning your piercing into a germ party. And FYI, they're not meant to go inside your mouth!
And those mouthwashes with hydrogen peroxide, alcohol, and all that antibacterial might wreck your good skin cells and slow down the whole healing process. So, skip them!
Stick to your regular cleaning and squishy thing routine. If things aren't looking up within a day or two, contact your piercer.
Keep your whole mouth clean, not just the hole
Tongue piercings ain't just about scrubbing the new hole. You gotta keep your whole mouth in check!
Be mindful of your munchies and sips until it's all good
Do's
While that tongue bling is doing its healing dance, stick to soft stuff that won't tango with your jewelry.
Ice cream (yeah, treat yourself)
Mashed potatoes (feeling fluffy, anyone?)
Yogurt (gut-friendly, literally)
Oatmeal (smooth moves)
Anything chewy might need a quick salt rinse after munching. And for hydration, stick to the good ol' H2O!
Don'ts
Now, don't get all crazy with the super crunchy munchies like chips. They're not buddies with your piercing and can stir up some extra pain and irritation. 
Booze is a double troublemaker – it can thin your blood and mess with the piercing's surroundings. This means longer healing and more chances for trouble. And coffee? Well, it's got some blood-thinning powers too. If you can't part with it, just tone it down a notch till things clear up!
Are you prepared?