NOSTRIL PIERCING HEALING TIME, AND ALL YOU NEED TO KNOW ABOUT IT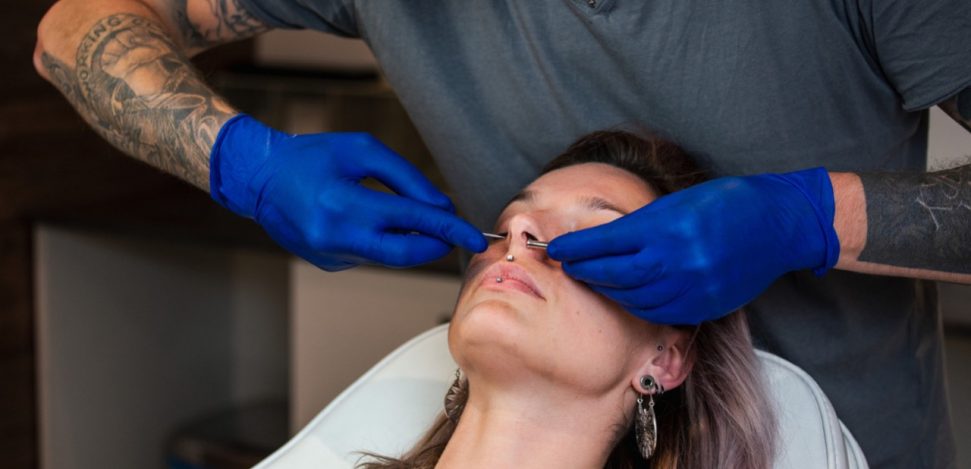 Just like tattoos, piercings have become an important part of a person's identity. If you're the kind of person who loves piercings or would love to get one, stick around because in this post we're going to talk about the Nostril piercing and its healing time. You're going to love it!
Nostril Piercing
The Nostril piercing, although it may not sound familiar at first, is one of the most typical nose rings. It's a piercing made in the nostril of the nose, which goes through the cartilage on one side only. However, there is also another type of Nostril, the High Nostril, which is placed above the curvature of the nose flap.
Thus, this piercing is the typical nose piercing, and can be done on either the right or left side (or both if you are very original).
As with all piercings, you mustn't wear a ring when you first get pierced, as this will cause scars or bumps that you won't like – you might even get an infection!
Then, only when the wound is fully healed, you can replace the main stem with a ring or an earring.
Characteristics of the Nostril
For many, this piercing won't be painful at all, as it's considered the least painful piercing. We recommend that you wear a mini labret, nostril screw, mini barbell, or ring as your first piece of jewelry. It's also very important that the jewelry is between 0.8 mm and 2 mm in diameter.
You have to consider that the piercing will take a long time to heal, don't expect it to heal in 1 month, as nose piercings take between 3 and 6 months to heal completely. Be careful with this, as a keloid can easily develop.
High Nostril
There is a slight difference with the conventional nostril, and that is that it's done on the part above the nose flap. With this nostril, it won't be possible to use a ring, you will have to take this into account before doing it.
There is no cartilage, so as with the nostril, it won't be as painful as you think.
How to do the Nostril Piercing
It's important to consider where we want to place the piece in the nose, the piercing site. It is also important if we want to put a ring after it's healed, or if it will be 6 mm, 8 mm, or 9 mm. In this way, it's advisable to show the type of jewelry you want to place to mark the area correctly and make the piercing according to the jewel shown.
The accessory should be flat and close to the nose, as using oval accessories will create pressure on the nose and create hypertrophic scars. For example, you could use a micro labret, or a normal 14 or 16-mm labret.
One important thing to keep in mind is that the nostril piercing has an internal thread, and this can be a problem because it can easily unscrew. So you'll need to be careful that it doesn't fall out – don't get it caught on your clothes!
Nasal piercing is done in the same way as other body piercings, with a needle. Be wary if someone wants to do it with a gun because it's not a good idea.
How much does it cost to get a Nostril piercing?
For a nostril, you'll pay approximately $30 – $80, or if you are in Europe, around 40 euros, and for a septum 55 euros. This price will always include the inserted product, the placement, and the titanium gem.
Alternatives to the Nostril Piercing
There are other alternatives to the Nostril, for example, you could pierce the septum between the nostrils. There are the following types of piercing that could be alternatives:
Bridge Piercing
Bull or Septum Piercing
Nasallang Piercing
Rhino Piercing or Vertical
Piercing
Septril Piercing
Austin Bar Piercing
The healing process and care
Firstly, to get any piercing, we advise you to go to a professional with guarantees, as you can avoid many problems.
Of course, after the piercing is done, the care depends entirely on you. You'll have to wait the exact time to let the wound heal properly. Also, as we have already mentioned, the initial jewelry mustn't cause problems, especially avoiding nickel.
This way, you won't remove the piercing at all! You will have to wait for it to heal. Don't touch the piercing too much either, because you could easily get an infection.
As for cleaning, always wash your hands first, and use a neutral soap or saline solution to wash the area at least three times a day. You should also avoid wearing any make-up to avoid the risk of infection. If you see any swelling, redness, or scabs, don't worry, it's normal in the healing process. In case of keloids or infections, you should see a doctor immediately.
Now that you know what a nostril piercing is, would you get one?