RAILAY BEACH IN THAILAND: BEST ACTIVITIES AND TIPS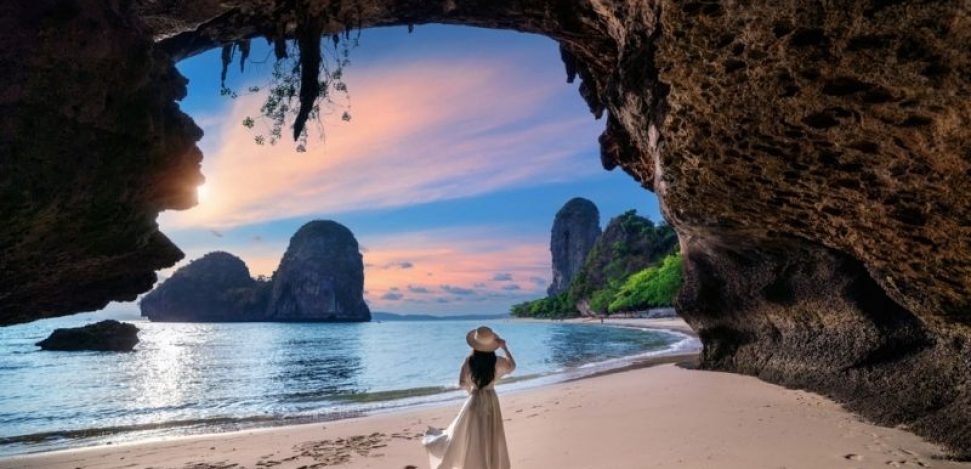 Looking for a new adventure? In Railay Bay, in the province of Krabi in Thailand, you'll be able to enjoy calm and charming beaches, white sand, and turquoise water, stay tuned because, in today's post, we'll explain everything to see and do in this area! 😉
Railay, also known as Rai Leh
Railay beach in southern Thailand is one of the most popular places for travelers. It isn't only a good place to enjoy the sea, but also the rocky and wild environment of Krabi province. So it is a perfect place to relax but also to enjoy sporting activities, both water, and climbing.
This area is also within easy reach of other places worth visiting, such as the Phi Phi islands, which can be reached by tours or excursions departing from Ao Nang Beach (Krabi).
Best areas of Railay
Due to towering limestone cliffs shutting off mainland access, it is only accessible by boat. Nevertheless, we assure you that its beautiful beaches are worth it and also, the journey in long-tail boats (Thailand typical boats) can be very special.  Also, these boats run throughout the day and the trip takes about 15 minutes from Krabi. Once there, you can enjoy the four main beaches: East Railay, West Railay, Tham Phra Nang, and Ton Sai. 
East Railay
This is an area where boats with travelers or commercial vessels from Krabi often arrive. The trip from Ao Nang to Railay costs about 100 baht each way.
It's not the most attractive island in Railay, as the tide fluctuates wildly each day. So if you want to enjoy the relaxation and all that the bay has to offer we recommend you visit the other beaches!
West Railay
The reputation of its west side is very different from that of its eastern sister. On West Railay, you can enjoy all the attractions of Thai beaches to the fullest: white sand, turquoise water and stunning views! West Railay Beach is the largest beach in the area, with a long stretch of coastline.
There are many karst formations in this area, so when you're lying on the sand, you'll have an attractive view out to sea. These views are combined with the more exotic and wild side, with a lush green jungle.
Where to stay?
West Railay has no shortage of amenities either. It's an area that has resorts and hotels with all kinds of facilities that will make your stay on this beach perfect. One of the most exclusive hotels that we definitely recommend is the Rayavadee Hotel. This resort stands out for its natural, exotic, and tropical surroundings and its amenities.
What to do in West Railay?
Around Railay beach, you'll find shops and restaurants where you can enjoy typical Thai food or buy a souvenir. Also, you'll find kayak rental companies on West Railay Beach if you fancy a trip. Kayak rentals cost 200 baht for an hour.
Phra Nang
Tham Phra Nang beach is one of the jewels of this area. Its scenery and long beach are well worth a visit, although it must be said that it's an area with an influx of travelers and, at peak times, you can find quite a few tourists. Despite this, the excursion to this beach doesn't disappoint. 
How to get to Phra Nang beach?
The beach can only be reached by longtail boats or speedboats. There is also a small path, if you prefer, through which you can access the beach, which you'll find when you are at East Railay Beach. The walk from East Railay to Phra Nang takes about 10 minutes.
One of the attractions of Phra Nang is the Phra Nang Cave. It's a curious place, where fishermen carry wooden carvings in the shape of penises to pray for luck in fishing and to ward off dangers. The fishermen believe that the cave is home to Princess Phra Nang, a mythological princess of the sea. The figurines brought to the cave are also believed to be a fertility offering. The place is totally picturesque and you can also observe the morphology of the walls, full of stalactite rock formations! 
You won't find many restaurants or shops on Phra Nang beach, although there is sometimes a food stall on a boat where you can get a typical Thai dish for a very cheap price.
Ton Sai
Ton Sai is a 450-meter long beach. It's a quiet beach where you can relax without crowds. Like other beaches in Railay, Ton Sai is perfect for rock climbing, as the rocky environment is perfect for it. In fact, climbing is one of the main attractions of this beach. You'll find climbing schools there, such as Basecamp Tonsai. The best time to enjoy this sport is during the winter when temperatures are more pleasant. In summer the temperatures mean that some of the climbing venues are closed.
If you're planning a trip from May to October, we recommend avoiding this beach as there can be heavy surf. The rest of the year the waters of the Andaman Sea are absolutely calm and tranquil.
Activities in Railay
Railay Viewpoint (Viewpoint)
What to do in Railay? Let's start with the best views! 😉 The place where you'll find the best views is at the Railay Viewpoint, which is located near Phra Nang Beach. The walk to the viewpoint is through the jungle and takes about 30 minutes. 
You should be well prepared with footwear, as the path is uphill and through the jungle. If it has previously rained or if it's very humid, it's advisable to use extreme caution or avoid going to the lookout point as the path can be a bit slippery. 
How to get to the Railay viewpoint?
From Phra Nang beach there is a path linking Phra Nang beach to Railay East. There are ropes in the middle of the path and from here you should follow them until you reach the viewpoint. Once at the top you'll be able to enjoy the most stunning views! 
Rock climbing in Railay
If there is one sport that is practiced par excellence in Railay, it's rock climbing. Its cliffs attract lots of rock climbers in this sport, as the environment is full of steep cliffs, some of which reach 300 meters in altitude.
The best area for climbing in Railay is Ton Sai. There you'll find everything from climbing schools that will teach you how to climb to equipment rental companies, so you don't have to bring all your gear from home. They are also the perfect place to ask for information and they will tell you the best areas according to your level and how and where to climb safely in Ton Sai.