DISCOVER TEAMLAB PLANETS' DIGITAL ART MUSEUM!!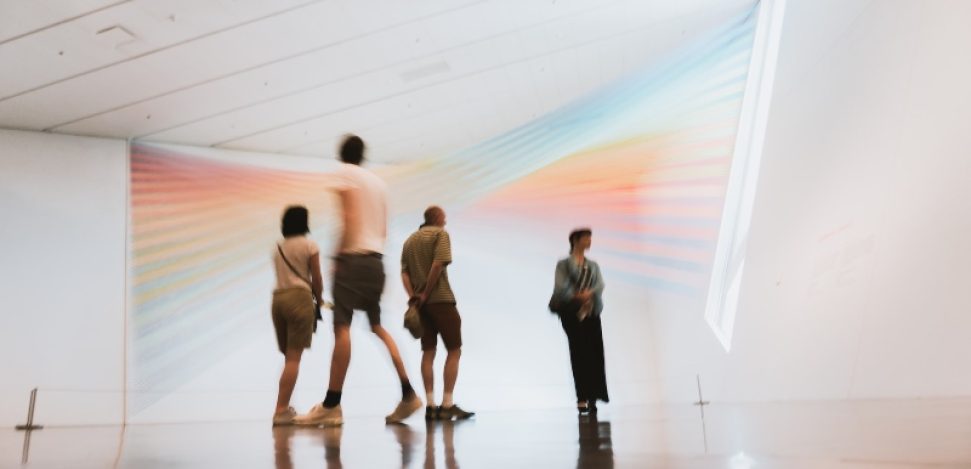 If you're looking for unique experiences in Japan, you have to check out the digital museum TeamLab Planets. We tell you everything you need to know about the Teamlab Planets Museum, and where to book your tickets online to avoid queues and take advantage of the lower prices if you buy in advance. Take note!
What is the Teamlab Planets' Art Museum?
The Mori Building Digital Art Museum, known in Japan as Epson Teamlab Borderless, is a digital art museum that opened on 21 June 2018, since then it has received thousands of visits from people all over the world.
Located on the island of Odaiba, in Tokyo, the Japanese capital, it's the first museum that instead of physical works of art, exhibits computer-controlled projections, with which visitors can interact and experience sensations that so far don't exist in any other museum in the world.
Various artists, programmers, engineers, architects, animators, and other scientists have collaborated to create a surprisingly original fantasy world.
Since its opening, it has become one of the most visited tourist attractions in the city, considered one of the must-see museums in Tokyo that you have to see sometime in your life.
Main rooms of the museum
This museum is located inside the MORI Building (surprising architecture) occupying a large area distributed on 2 different floors.
The museum has a permanent exhibition that can be seen in several large rooms, where images, sounds, optical effects, and very peculiar light effects are projected.
In the TeamLab Planets Museum, you can visit two main areas in the larger halls, located on the ground floor and the upper floor, as well as other works of art with very unique formats.
Borderless World
Upon entering the museum, Borderless World is the first room where the visit begins. This area is made up of dark corridors through which you can move to reach the different works of art on display.
To get to each room there is no map, you just have to follow the signs and explore every corner so as not to miss the most hidden rooms that hold the best treasures.
Athletic Forest
On the top floor is the large Athletic Forest room, with an open space where different lights are projected through which visitors can interact.
You can move around as if you were in a forest, with a variety of areas depicting animals, trees, and plants, and you'll be able to take the best photos for Instagram!
Forest of Lamps
One of the most beautiful rooms in the entire museum, with hundreds of crystal lamps that change color and intensity, creating a beautiful flow of light!
Access to the Forest of Lamps is by groups so that crowds are avoided, and you can stay there for a few minutes, with the possibility of re-entering once you've left.
Future Park
This part is expressly dedicated to the little ones, although adults will also enjoy it as much as children.
It has several interactive attractions such as slides with lights and sounds, and motion-activated projections.
At Tea House
Another of the attractions of this museum is its exclusive tea house, where you can enjoy delicious Japanese tea surrounded by a light show inside.
Each cup of tea costs 500 yen, with a very limited menu to choose from, but it's well worth a short break here. The tea is delicious, but most of all you'll be fascinated by the lighting effects.
🎨 If you want to go to a Museum in the USA, we recommend the NY Metropolitan Museum of Art!
Information about the TeamLab Planets' digital art museum
How to get to the Digital Art Museum in Odaiba
Getting to the Tokyo Digital Art Museum is easy. It's located within the Palette Town complex, along with the Venus Fort shopping mall and the Toyota showroom. You can find the museum just below the Daikanransha Ferris wheel.
Opening hours of the Digital Art Museum
The museum is open every day of the month, except for the 2nd and 4th Tuesday of the month. Opening hours are as follows:
Monday to Friday: 10.00 – 19.00h.
Saturdays, Sundays, and public holidays: 10.00 am – 9.00 pm
Are there slogans in the museum?
Yes! You can leave your coats, backpacks, umbrellas… Once you leave your things in the lockers, you won't be able to pick them up again unless you leave the museum.
Is it possible to bring in food?
Yes, and it's also advisable to bring snacks, as there are only vending machines inside the museum that sell drinks but no food. Something to eat will come in handy to replenish your energy!
Digital Art Museum ticket prices
It's possible to buy tickets for the museum directly from the ticket office, priced at 3200¥. However, due to many visitors to the museum at the moment, it's advisable to book online:
Avoid queues
To avoid being sold out (they usually sell out a week before).
By buying online you can also get cheap tickets, with a special discount thanks to the prices that many companies offer to foreign visitors.
We recommend you visit it in the morning. It's highly recommended to arrive 30 minutes before the museum opens to avoid long queues!
What do you think about teamlab planets Museum of Tokyo?