THE BEST KARAOKE SONGS: DUETS, MALE, FEMALE, AND MORE!
For all those who are passionate about music and karaoke, we bring the definitive post with the top 10 of the best karaoke songs. Surely there will be many more perfect songs to enjoy a great karaoke night, it is for this reason that you will find in this list the most current songs but also the best classics.
💃 Do you like to party? Discover the best party songs!
THE TOP 10 OF THE BEST SONGS FOR KARAOKE
Thank u, next
The first song we want to include in this top 10 is Thank u, next by Ariana Grande as this song has become a great success. It is important to comment that this song is suitable only for the most karaoke experts since we warn you that it has a certain level of difficulty.
Wonderwall
Wonderwall is one of the great classics of karaoke and parties, and that is because who has not ever sung this song with their friends? Over the years, this song by Oasis has become a great landmark of the 90s.
Girl On Fire
This is another of the songs that surely many times have been sung by many women. Girl On Fire by Alicia Keys is a really popular song that has become an inspiring and empowering song, perfect for singing any night of karaoke and fun.
Happy
When this song was released it was impossible not to hum and sing it, because Happy by Pharrell William could only put us in a good mood. It is for this reason that this song is the best option to sing it in karaoke. We assure you that it is impossible not to dance and smile while singing or listening to this song.
Like a Virgin
Thanks to Madonna's great rendition of the Billy Steinberg and Tom Kelly song, Like a Virgin became a huge hit and has turned into a very popular choice in karaoke bars, thanks to its catchy rhythm and simple lyrics. Definitively, a great song that is easy to sing in your karaoke sessions.
Shallow
You have probably sung Shallow unconsciously and it has been in our heads for a long time. Performing this song in karaoke can be hilarious for all the high notes we probably won't get to, but just trying is worth it.
Rehab
Rehab is one of those modern and classic songs at the same time and it is that despite the lyrics, its rhythm is moving and above all very contagious, which is why it has also become a song known by many people.
Malamente
Rosalía is already known worldwide and she has become a great musical and stylist revolution. It is for this reason that in recent months it has also become one of the best options for singing at karaoke. It just takes a lot of attitude and knowing how to move your hands to nail Rosalía's songs.
Baby one more time
We could not fail to include in this list the well-known song by Britney Spears, and it is that Baby one more time became a hit that marked a generation not only for the music but also for the style of the video clip.
Wrecking ball
The last song that we want to include in this top 10 is the popular song Wrecking ball by Miley Cyrus, because this song presented a version of the singer and came to impact with his videoclip. As a result, it has become another of the best songs to sing in a karaoke and you can let off steam because through the lyrics Miley Cyrus reflects a very common theme such as having suffered from lack of love and other unrequited love.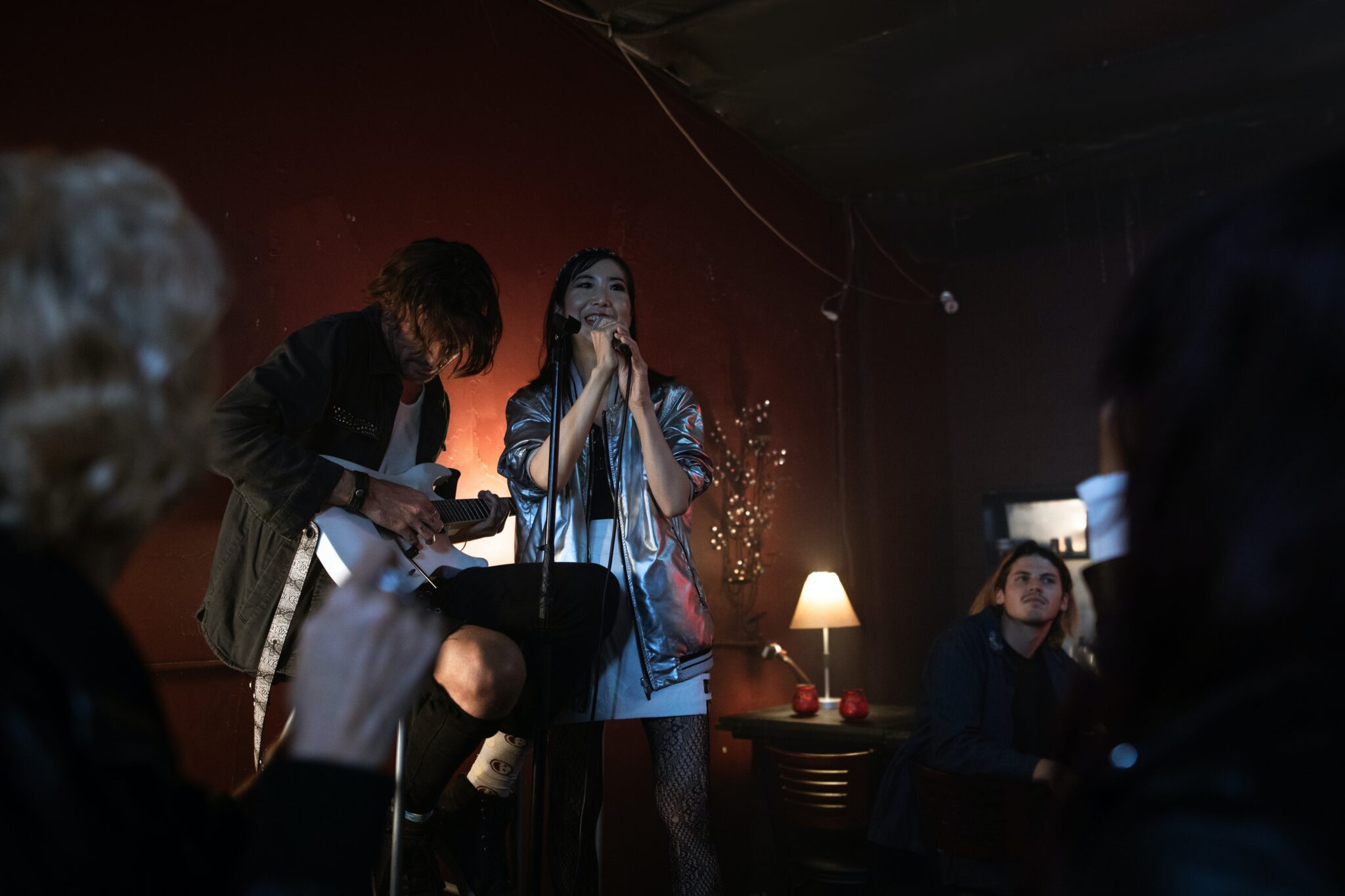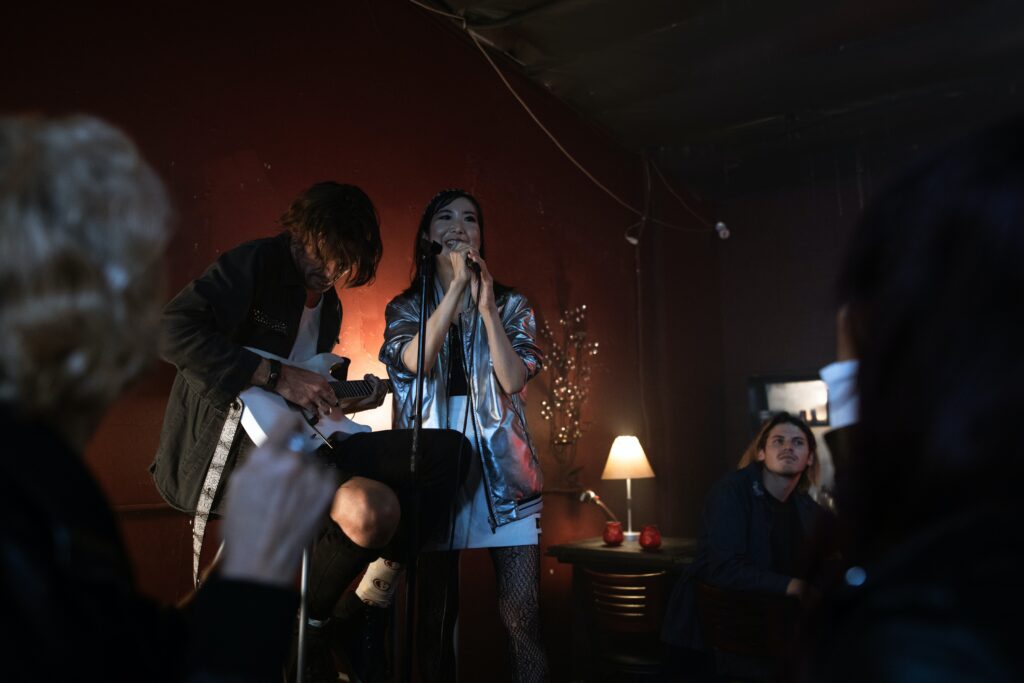 THE BEST CLASSIC SONGS TO SING IN KARAOKE
If you are one of those people who want to enjoy karaoke and the most classic songs, keep reading because we will comment on 5 of the best songs to sing and enjoy:
Girl just wan to have fun
The first song we want to include in this top 5 is Girls just want to have fun by Cyndi Lauper since this was a feminist anthem from the 80s that meant a revolution to this day. It is perfect for a female duet on a karaoke night because this song really invites you to dance and have fun.
I will always love you
Who has never tried to interpret I will always love you like Whitney Houston? It is almost impossible not to sing this love song and believe you are among the best singers in the world so enjoy while you perform some of the best-known songs in history. It is a great song for a male and female duet.
Dancing Queen
ABBA has been to many a great music group and thanks to Meryl Streep's performance in the Mamma Mia movie, Dancing Queen has become a hymn of female empowerment. You can sing this song in karaoke while you imagine that you are walking on an island in Greece with your best friends.
Summer Night
The next song that we want to include in this small list of great classics is again from a movie, specifically, we are talking about the Summer Night song that appears in Grease, a classic movie with a great soundtrack that will be remembered for many years to come.
I Want to break free
We want to end this article and this list with a song by Queen, specifically with I Want to break free. This song has become a hymn that represents not only the individual independence of each person but is also a hymn to sexual freedom. Thanks to this powerful message, it has become one of the great songs to sing and enjoy to the fullest on a karaoke night. For the experimented singers, we recommend singing Bohemian Rhapsody.