UPCOMING MUSIC FESTIVALS: THE RETURN OF LIVE MUSIC, AT LAST!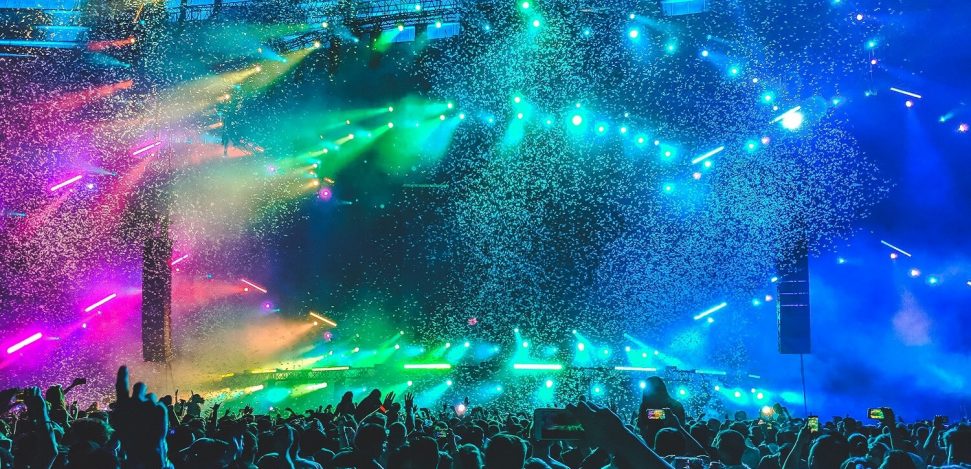 Are you ready to start enjoying a festival? If you are one of those, today we bring you the upcoming music festivals! With the Covid situation, we have stopped living these situations as we did before, but is the time approaching to be able to revive them? We recently talked about the best summer festivals, today we are going to talk about the festivals that feel closer every day!
Top upcoming music festivals
Coachella
Surely you already know about this crowded three-day festival held in Indio, California. Well, inform you that the next dates of its festival are April 15-17 and 22-24, 2022!
At Coachella, you can find emerging artists and diverse music such as indie rock, hip hop, pop, electronics, alternative rock, and much more! This festival is going to blow you away! In addition, the atmosphere is spectacular, with sculptures and art installations that will make you enjoy it even more!
It's one of the largest and most famous festivals in the world, where you can see even famous people enjoying the festival, you have to live it! Find out more about Coachella in our recent post.
Stagecoach 
This festival is held in Indio, California, and is considered the best country music festival in the world! The posters are what most attract the attention of the public, and that's why it brings thousands of people to enjoy this great festival! You can hear the best artists of country, rock, bluegrass and folk music.
And not only the music is spectacular, but also the atmosphere is the best! You will be able to find the best food that represents the culture, attractions, and different activities that will make you have a great time!
It's celebrated from April 29 to May 1 in 2022! It's an experience you cannot miss!
New Orleans Jazz & Heritage Festival
This festival is held at the Fair Grounds Race Course in New Orleans, Louisiana, and it primarily celebrates local music and culture. And not only can you enjoy local music, but you can also do it with other cultural, educational, civic and economic activities!
In 2021 it has been canceled and will be held from April 29 to May 8, 2022. See you there!
Primavera Sound
Are you into independent music and urban festivals? You can't miss Primavera Sound! Its long lineup with popular artists is what most characterizes this festival. In addition, the atmosphere is impressive, located in the Parc del Fòrum, with a wide variety of services, from chill-out areas to restaurant services.
It is one of the most famous festivals in all of Europe, and guess how many people attend approximately, more than one hundred thousand!
It's celebrated from June 2 to 12, 2022 in Barcelona! Grab your tickets now!
Summerfest
This festival attracts people from all over the United States and is celebrated in front of the famous Lake Michigan of Wisconsin. You will be able to enjoy local artists and famous artists from pop, jazz, metal, rock, r & b and much more. The atmosphere is spectacular and a total of approximately 900,000 people gather!
It has a total of 10 days of celebration and you can enjoy it on June 24, 2022! What are you waiting for to buy your ticket? It will be unforgettable!
Bonnaroo Music & Arts Festival
This festival is also known as Roo or The Farm. It's a great festival that lasts 4 days, and there are not only great concerts, but it also features entertainment, comedy, and other activities.
And what type of music can you enjoy? Well, the good thing about this festival is that it has numerous stages with an incredible diversity of music, from indie rock, world music, hip hop, classic rock, bluegrass, country folk, reggae, pop, to alternative and electronic music.
It's celebrated in Manchester every year. This year 2021 has been canceled but they have already announced that it will be held in June 2022! One thing you have to keep in mind, you have to bring a negative Covid test or proof of vaccination to be able to attend!
Mad Cool Festival
It will be held from July 6 to 9, 2022, and although its main competitor is the great Primavera Sound, this festival doesn't go unnoticed either.
It's a festival of all kinds of music, rock, electronic, pop, indie, and much more! You can also find the best gastronomy and activities about art and fashion. If you want to have a good experience and get to know Madrid, it's a great opportunity!
Tomorrowland
As you may already know, Tomorrowland is the most popular and most spectacular electronic festival in the world. With the services they provide, the effects on the stages, and the best DJ artists in the world, they make this experience unbeatable!
Well, we are lucky to tell you that it will return on July 22 and 24 and on July 29 and 31 next year, 2022, in Belgium! We remind you that in the 2020 edition there were great artists such as David Guetta, Dimitri Vegas & Like Mike, Amelie Lens, Martin Garrix, and Marshmello!
Lollapalooza
This festival will be held from July 28 to July 31. It's a music festival of the United States that offers indie, punk rock, and alternative rock bands. You can also enjoy comic and dance performances.
The festival is characterized by representing the youth culture of the 1990s, which is why the Lollapalooza Generation is sometimes called Generation X. It's celebrated in Chicago and attracts thousands of people!