WAKEBOARDING: A COMBINATION OF WATERSPORTS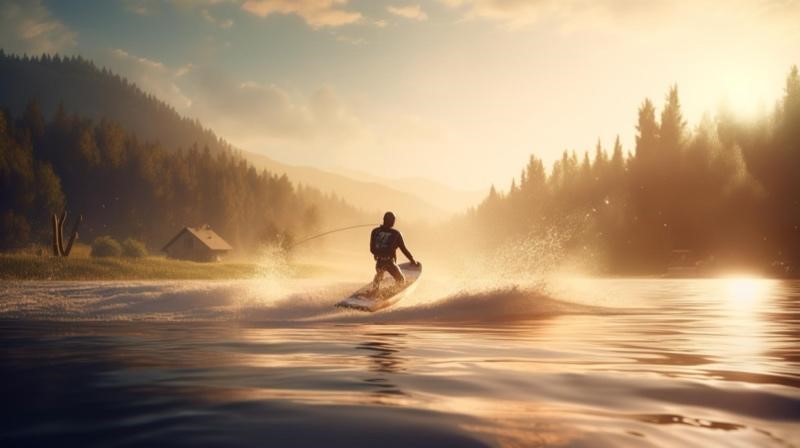 Wakeboarding is a popular water sport that is gaining many followers and bringing excitement for trying new sports.
To participate in this sport, you need to acquire the correct techniques, obtain the appropriate gear, and locate the optimal venues.
'Wakeboard' comes from English. 'Wake' means the trails boats make in water, and 'board' means the board used in this sport.'. This is especially important if you are just starting in this water sport.
Wakeboarding is like water skiing but without skis. Instead, the person uses a board similar to the one used in snowboarding.
We have created this comprehensive guide on how and where to practice wakeboarding. Keep reading, and soon you'll be riding the board with complete confidence!
What is Wakeboarding?
The term 'wakeboard' comes from English, where 'wake' refers to the trails left on foot by boats in the water, and 'board' refers to the board used in the practice of this sport.
Participating in wakeboarding involves engaging in a water activity where an athlete is towed by a rope connected to a motorboat.
So, wakeboarding is similar to a form of water skiing, but without skis, as the practitioner glides on a board resembling that used in snowboarding. For this reason, many consider it a fusion of snowboarding and water skiing.
WHAT IS JETSURF: THE NEW TREND OF MOTORIZED SURFING
Where is Wakeboarding Practiced?
Experienced individuals enjoy wakeboarding in lakes, reservoirs, or beaches with favorable wind and wave conditions for performing aerial tricks. However, it's also possible to take advantage of the waves generated by the boat.
Elements of Wakeboarding Equipment
Wakeboard Boat
An essential component of wakeboarding is the board. To select the type of wakeboard board that best suits your needs, it's important to consider the following aspects:
Your skill level
Weight and height
Rocker or curvature: Continuous rocker
boards provide more speed and fluidity, facilitating progressive and smooth turns. Boards with three-stage rockers allow for higher jumps, although turns may be less stable.
Boots
There are two types of wakeboard boots: open and closed.
Open boots are adjustable to different sizes but offer less foot support compared to closed boots, which are sturdier and more compact in the heel area.
Bindings
Wakeboard bindings are located on the top of the board and serve to keep the rider's boot attached to the board.
Rope
The choice of wakeboard rope depends on the rider's level and, consequently, the speed at which they plan to glide.
Handle
The handle is held by the wakeboarder and connects them to the boat through the rope. It must be resistant to breakage and wear caused by saltwater.
Life Jacket
A wakeboarding life jacket should securely fit the torso and be comfortable. Remember that it will stretch when wet, so it shouldn't be too tight!
Helmet
The wakeboarding helmet protects the head against impacts and provides insulation against cold, moisture, and sunlight. Helmets often have bright colors for rider visibility. Don't forget it because it's one of the most important elements!
Best Places to Practice Wakeboarding
Here are some of the most impressive places worldwide where you can enjoy wakeboarding:
Lake Powell, Utah/Arizona, USA
This immense lake stretches 186 miles on the border between Utah and Arizona and is the second-largest artificial lake in the United States.
Lake Tahoe, California, USA
The majestic Lake Tahoe, the second-deepest lake in the United States, offers breathtaking views of beaches, mountains, and blue skies—an incredible setting for wakeboarding.
Lake Como, Italy
Lake Como, located in the Lombardy region of northern Italy, is surprisingly beautiful, with luxurious hotels, celebrity homes, and Mediterranean-style villas along its shores.
Lake Bled, Slovenia
Slovenia is becoming an increasingly popular destination for water sports, and Lake Bled offers crystal-clear waters dominated by a medieval castle and a spectacular island in its center.
Lake Geneva, Switzerland
A long-standing vacation destination connecting eastern France with western Switzerland, Lake Geneva offers exciting opportunities for wakeboarding.
Lake Eildon, Victoria, Australia
Perhaps the most famous wakeboarding destination in Australia, Lake Eildon has been the starting point for some of the world's best professional riders, offering 500 km of freshwater to enjoy.
Stoney Park, Australia
This location consists of two artificial lakes specifically designed for water skiing and wakeboarding, offering a wakeboard experience for wakeboard enthusiasts.
What are you waiting for to try this water sport?