CURATED EAR PIERCING: ORBITAL, AND MORE NEW TRENDS!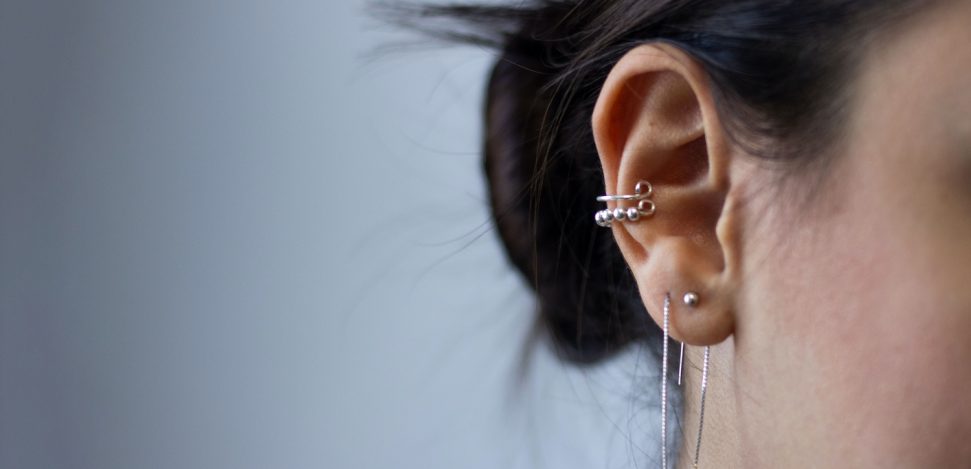 If we recently talked about stretched ears, today we want to talk about curated ear piercings, the trend of this 2022! Undoubtedly, ear piercings have become the indisputable accessory that gives a modern and cool touch to your look, so keep reading!
Curated ear piercings
Surely you follow this trend because you already have more than one piercing in your ear! We admire them in the ears of celebs like Chiara Ferragni but also Emma Watson or Anine Bing. Piercings have made their big come-back on the red carpet but also in street style.
They return, as a reminiscence of previous decades, under the trend of the "curated ear", which refers to the idea of "organized ear", that is, with multiple piercings for the same lobe. Goodbye to the classic hole, pieces of jewelry is worn for two, three, or more!
End goal: create spectacular harmony!
It's not only about decorating the ear but about creating cohesion and above all a harmony!
The final effect of the combination of your piercings will depend on how you decided to place them, so try not to leave anything to chance. Keep in mind that the appearance will also depend on the shape of your ear, but also your skin tone and your haircut!
Less is usually more, although in this case, you can choose to multiply the models always combining them and of course with the set of your looks 😉.
Let your imagination run wild by decorating and "organizing" your ear with the piercings you want. Let's see the types that are more trending, and some curated ear piercing ideas, ready?
Types of Curated ear piercings
The curated ear is the new trend of creating a unique look that reflects the style and identity of each one, playing with all the ear holes to create a unified and personalized design.
Here you can combine earrings, charms, glitters, textures, and piercings of different sizes and colors, according to the anatomy of each ear and personal taste to create a small work of art that expresses the identity of each person.
There are many and varied that depend on the place where the piercing is done and the style that each one chooses. The idea is to make them very personal and unique!
Lobe piercing
The most chosen piercing without a doubt because it's classic and simple, and because it's the little hole most have since they were born. It's perfect for everyday wear and to start cheering up and going for more!
Upper lobe piercing
If it's your first experience, this piercing is for you! It's made in an area where the skin is very thin and elastic, so don't worry at all because the piercing will hurt very little and heal very quickly 😉 .
Tragus Piercing
Don't worry! It seems very harmful, but this place has very few nerve endings which will only make you feel a little discomfort. Being a delicate area, hygiene with warm water and neutral soap or a saline solution such as physiological serum is very recommended!
And also try not to manipulate the jewel to avoid infections and clean it daily until the area heals.
Piercing in the anti tragus
This is a frequent piercing point, the area is the cartilage that protrudes just above the earlobe. This piercing is done so that the piercing exits through the anti-tragus notch rather than behind the ear, cool, right? Try it!
Helix or cartilage piercing
There aren't many nerve endings here so the pain when drilling won't be very very bad… Due to the absence of large capillaries, it's normal not to bleed or bleed very little. Therefore, it's recommended to pay special attention to the healing of the helix piercing.
The trend is to combine them with the lobe design. That duo is super cool!
Piercing in Rook
This area is located in the inner cartilage of the ear (also called the small ridge) just above the daith. It can be carried out with a curved bar earring, with small hoops decorated with brilliants, with colored horseshoes… There are many options!
Daith Piercing
The daith piercings are located in the cartilage of the inner ear, it's perfect to use bars, flat designs, or earrings. If you combine it with a Helix, it will give a more playful and avant-garde air to all your looks.
Orbital Piercing
This piercing is done in the lowest area of ​​the cartilage. Orbital piercings are ideal for complementing and framing the earrings in the lobe and give a cool touch to any look!
As for all piercings made in cartilage tissue, it's recommended to attend a specialized piercing studio with professionals who know the area well.
Conch Piercing
Located in the middle of the cartilage in the second-deepest cavity of the ear (the first is your ear canal). Given the depth of the sheet, very small pieces may not be appreciated, so we recommend designs that turn your ear so that they are visible from all angles!
If you want, you can also add an ear cuff to your curated ear and it will rock!
What do you think of this trend? Did you already follow it?