WHAT IS A MONROE PIERCING?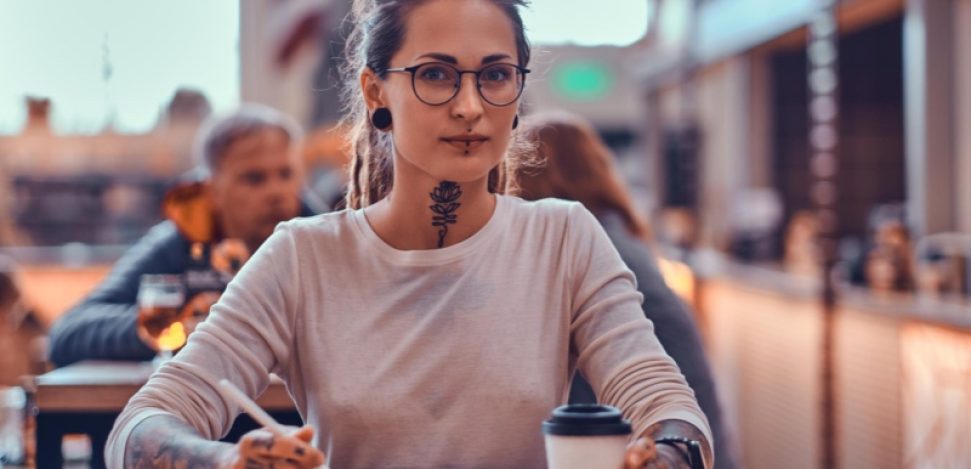 The Monroe piercing, named after Marilyn Monroe's iconic beauty mark on her upper lip, is gaining popularity and becoming as famous as the glamorous woman it honors. It shouldn't be confused with the Madonna piercing, which is located on the opposite side of the lip!
The Monroe piercing is positioned above the left side of the upper lip. To achieve the complete Marilyn Monroe look, most people choose a simple labret stud adorned with a small bead, gemstone, or charming ornament. However, there is room for creativity, and the Monroe piercing can be combined with other facial piercings to create a unique and personalized style.
Does The Monroe Piercing Hurt?
The level of pain experienced during a Monroe piercing is typically moderate, falling around the middle of the pain scale. The upper lip area contains a higher concentration of nerve endings compared to places like the ears or nose, so you can expect to feel a significant pinch during the process. However, unlike certain other lip piercings, the Monroe piercing requires only one swift puncture, resulting in a quick moment of pain.
After getting the Monroe piercing, it's common for the lips to swell significantly. You should anticipate redness and puffiness during the initial few days. To accommodate the swelling, your piercer should provide you with a labret stud that is appropriately sized. 
If the jewelry feels too tight against the skin, it's important to consult your piercer to have a larger stud fitted. Wearing jewelry that is too tight can impede the healing process.
In case you experience extreme pain, excessive bleeding, or discharge resembling pus from the piercing, it's advisable to seek medical advice and consult a doctor. These symptoms could indicate an infection or other complications that require professional attention.
Healing Process
The healing process for a Monroe piercing, like any other piercing, can vary from person to person. To promote faster healing, it's crucial to follow proper aftercare procedures. While some individuals may find that their Monroe piercing is fully healed within 6 weeks, it can take up to 12 weeks for complete healing.
It's important to be aware that even if the piercing appears healed externally, it may still be in the process of healing internally. Therefore, it's advisable to consult with your piercer before discontinuing aftercare practices or changing your jewelry. They can guide you when it's appropriate to modify your routine and ensure that the piercing is healing properly.
In addition to following standard piercing aftercare practices, it is essential to take extra precautions to keep your Monroe piercing and the surrounding oral area free from bacteria. Due to the warm and moist environment of the mouth, it becomes a breeding ground for harmful bacteria and germs. Therefore, it is important to maintain a clean mouth, prioritize oral hygiene practices, and minimize contact with foreign objects near the piercing.
Our Monroe Piercing Guide
To promote faster healing and prevent infections, here are some helpful tips:
Handle your piercing only with clean hands. Particularly in the initial days after getting the piercing, you may feel tempted to twist or touch the jewelry. However, doing so can irritate the skin and hinder the healing process.
Avoid alcohol and cigarettes. While the occasional drink may be acceptable, excessive alcohol consumption can weaken your immune system, so it's advisable to stay away from heavy drinking. Cigarettes contain harmful chemicals that can have a negative hurt and delay healing.
Refrain from kissing. Although it may be disappointing, avoiding kissing is necessary because you are already combating bacteria in your saliva. Adding the saliva of your partner can introduce further bacteria. Additionally, it is advisable to abstain from any oral activities in the bedroom until your piercing is fully healed.
Be mindful of your teeth. During the healing process, you will wear a larger labret stud to accommodate swelling. It's important to be cautious and aware of your actions to avoid damaging the piercing.
Maintain regular brushing of your teeth. It's crucial to elevate your oral hygiene routine while your piercing is healing. Regularly brushing your teeth helps prevent bacterial buildup and promotes overall oral health. Ensure you are diligent with oral hygiene until your piercing has fully healed.
By following these aftercare rules, you can help minimize complications, reduce healing time, and support a successful healing process for your Monroe piercing.
How Much Will It Cost?
The cost of a Monroe piercing can vary depending on the piercer and location. It is generally recommended to choose an experienced and reputable piercer, especially for a Monroe piercing due to the abundance of nerve endings in the lips. A poorly placed Monroe piercing can potentially cause problems with your gums.
On average, the cost of a Monroe piercing ranges from $50 to $80. However, it's important to prioritize the expertise and skill of the piercer rather than solely focusing on finding the cheapest option. 
It's strongly advised to avoid piercers who use piercing guns, as these devices can harbor more bacteria and cause damage due to the blunt force used to puncture the skin. Instead, ensure that the professional piercer uses a clean needle for the procedure. Investing in a professional and safe piercing experience is crucial for your health and the successful outcome of your Monroe piercing.
Do you dare?