WHAT IS THE ROCKABILLY STYLE? 50'S AND 60'S FASHION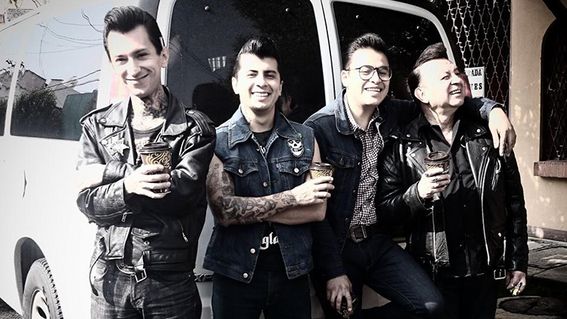 Do you want to know why Rockabilly and fashion? Next, we want to talk about this well-known style since it is a clear example of how fashion is reborn. The Rockabilly style also shows how the different styles of the 50s and 60s reappear over the years.
It is important to note that the rockabilly style was born when the pin-up style was already well known and popular in many places, so, inevitably, it was influenced by it. In this way, they maintain certain similarities and certain differences.
Rockabilly fashion: origin and characteristics
Before the style, there was music, and today, Rockabilly is not only a musical style born in 1950 in the United States, but it has also become a subculture. For many people, it has become their style and philosophy of life.
It is considered that rockabilly was born as one of the first subgenres of rock and roll in the 50s. And basically, it is a contraction of the words rock and hillbilly, specifically, hillbilly music, it was a form of folk music.
This new subgenre is completely different from the well-known rock and roll with its own sound that was totally identified with the new culture that was growing called greaser. This subculture consisted of the working class organized in gangs in the South and East Coast of the United States.
Rockabilly fashion was for everyone, it is for this reason that they are characterized by a particular outfit that recalls those 50s when this fun, sensual and daring genre was born.
Finally, as expected, tattoos were also one of the characteristic elements of this new subculture. This does not mean that by wearing tattoos, people were automatically considered rockabilly, but it is important to note that some specific tattoos were more related to this new fashion.
Tattoos for men were characterized by better-reflecting music and instruments, on the other hand, women in whom more creative and original tattoos were made. Very colorful tattoos stood out, usually located on all the arms or even on the chest, and designs of skulls, diamonds, hearts or flowers predominate. You can see for yourself that this style still influences tattoo trends nowadays.
👚Are you also interested in the fashion style of the 200?
Learn

all

about the

Y2K

style

clothing

!
Rockabilly style for girls
It is important to note that the rockabilly style especially for women has also evolved over the years. At the beginning of the 50s, rockabilly girls were characterized by wearing naive and fun clothes where high waists and skirts by the knees stood out. They wore fitted T-shirts and shoes with short socks.
However, with the appearance of new styles such as the psychobilly of the 80s, Rockabilly girls also adapted to this new style, so it could be considered a much "harsher" way of dressing, leaving behind its naive and fun side.
With this influence, and like men, who will discuss their style below, women used rolled-up shirts and tight-fitting T-shirts in basic colors such as black and white. Women could choose to wear tight jeans, something short and always with hems. Others stand out for using very tight fabric or leather tube skirts or even some, preferred to wear classic dresses with cancans. As for the shoes, the extreme high heels stand out above all.
The character of Sandy in the Grease film is a clear example of the classic rockabilly girl of the 50s. On the other hand, with this evolution of the style, Amy Winehouse would fit much better with the current image of the rockabilly style.
Rockabilly style for men
In clothing and appearance for men, the mythical toupee, hair gel, and above all, the black leather jacket or the typical university or high school jackets are totally essential. The pants used to be jeans and usually short with metal buckles as the main accessory.
T-Shirts short sleeve white or black is one of the basic elements of this style. As are plaid or plain shirts in classic colors, usually rolled up and open.
As for footwear, the country boots with long toes stood out above all, and even with studs, in the most extreme cases. Also, they wore white sneakers and black and white teddy boy shoes.
👓 Do you want to get into hipster style? We'll teach how with our guide!
Rockabilly style: hair and outfits
Hair was another of the most important elements in Rockabilly fashion. In women, their colors and haircuts stood out especially. Although in general, rockabilly girls wore hairstyles that resembled those of the 50s with waves, large bows, and bands that decorated their hair.
In men, stood a hairstyle that was combed back out, a particular mustache and a beard in abundance, could outline a style in this fashion.