KEITH HARING: MOST IMPORTANT WORKS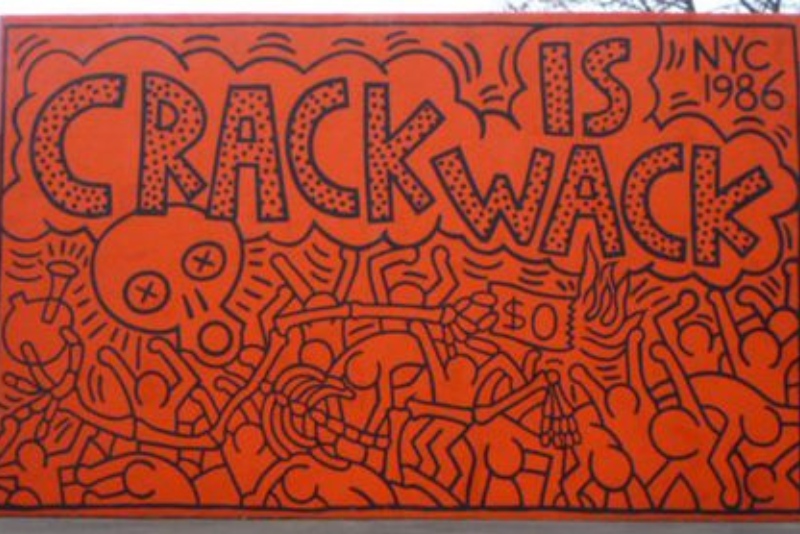 Keith Allen Haring was an American artist. His art emerged from the New York graffiti of the 1980s. His drawings became a widely recognized visual language. Much of his work includes sexual allusions that have evolved into social activism. 
Keith grew up because of his spontaneous drawings: dogs, chalk outlines of people, and images on advertising spaces. After his rapid growth, he created colorful murals on a larger scale, many of them commissioned. 
His latest works were related to raising awareness about social and political issues: homosexuality, anti-crack, AIDS, safe sex, and anti-apartheid. In this post, we tell you more about Keith Haring, his works, and his mark as part of the Pop Art generation.
Keith Haring's Best Works
Radiant Baby (from the Icons series), 1990
Keith turned the New York subway into his art studio. He used white chalk to engrave his most famous works of art, wherever he found a space, small or large, his works came in different shapes and sizes. 
One of these works is the "Radiant Baby", which he also called "the purest and most positive experience of human existence". The use of the baby in his works represented Jesus in nativity scenes and next to crosses. Today, it has a darker meaning: nuclear proliferation.
Although "Radiant Baby" can be interpreted in a thousand ways, the design was the artist's favorite and is now cherished as the artist's signature.
2. Ignorance = Fear, 1989
Through this work, on behalf of the AIDS Coalition to Unleash Power (ACT UP), Keith wanted to appeal to the ignorance about AIDS. 
Three wise monkeys, who, as he said, "see nothing, hear nothing, say nothing".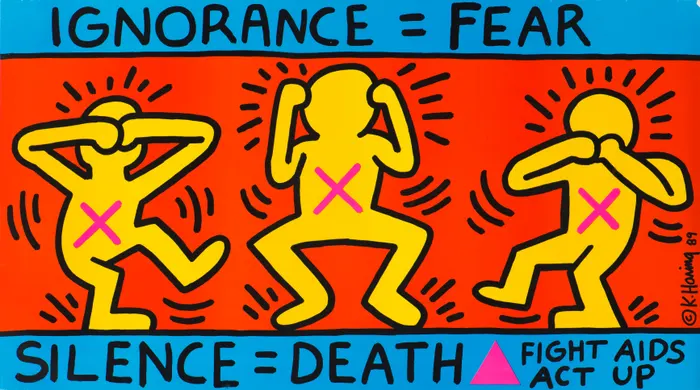 3. Crack is Wack, 1986
This is a mural that emerged during a time of political tension in the United States due to the ongoing illegal drug situation. Crack became very popular in the working-class neighborhoods of American cities. 
Between 1985 and 1989, the number of regular crack users nationwide increased from an estimated 4.2 million to 5.8 million: crack epidemic. 
This work by Keith Haring was intended to warn New Yorkers of the repercussions of crack cocaine.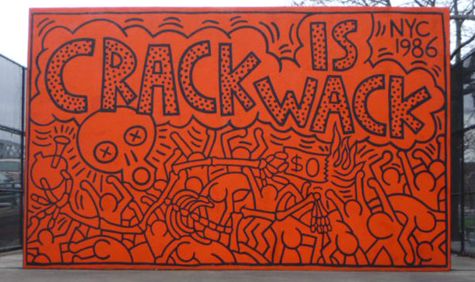 4. Free South Africa, 1985
Represented with the artist's instantly recognizable style, the Free South Africa series is an example of how Keith Haring used his playful figurative drawings to fight against social injustices worldwide, including racism and apartheid in South Africa. Printing and distributing around 20,000 Free South Africa posters in New York in 1986, Haring worked tirelessly to mobilize support against apartheid.
Each poster in the series features two stick figures battling each other, and as the series progresses, we see how this struggle develops. With his bold and linear style, Haring describes the relationship between the black majority and white minority in South Africa during years of institutionalized racial segregation.
The black figure on the left is much larger than the white figure, symbolizing the great disparity between the black majority and the few whites who held political and social power at that time. Haring clearly expresses this unequal power dynamic by showing the white figure with a noose around the neck of the black figure.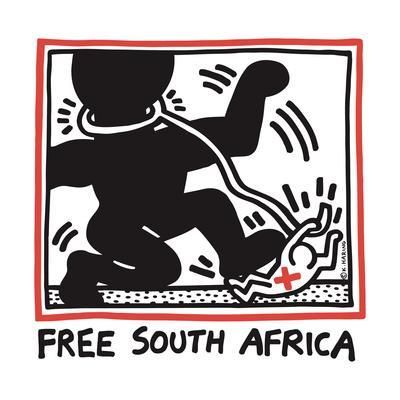 5. Montreux, 1983
Pierre Keller met Haring a few months later and asked him to design a poster for the Festival featuring a dancing figure. Haring proposed three designs, all of which were accepted.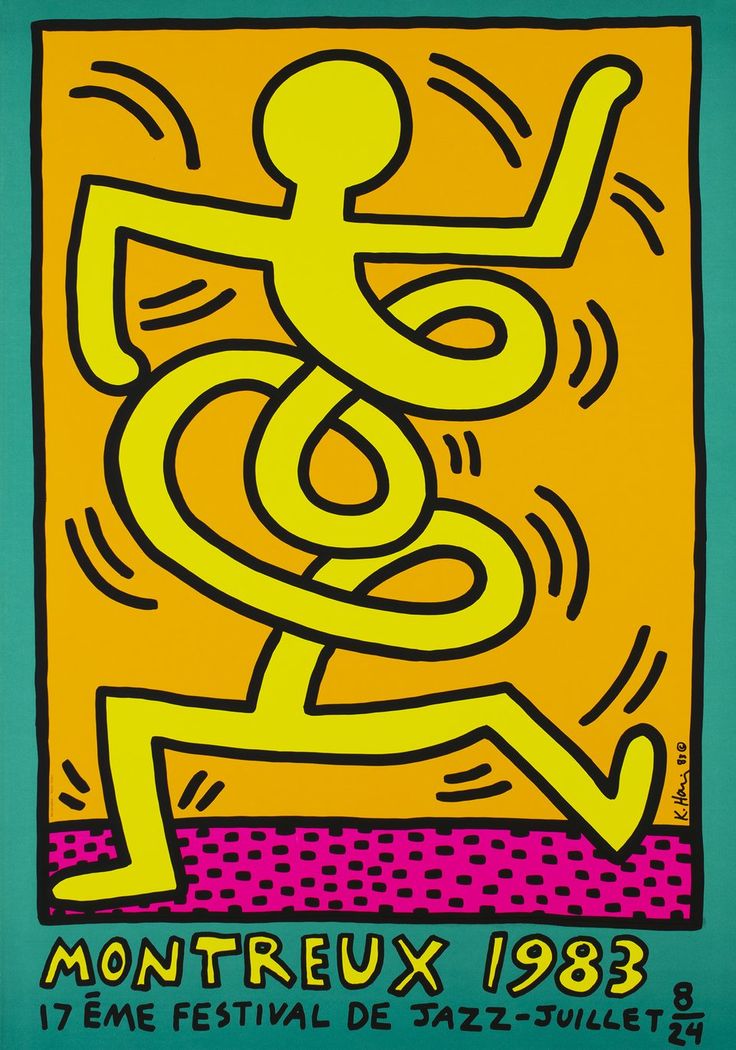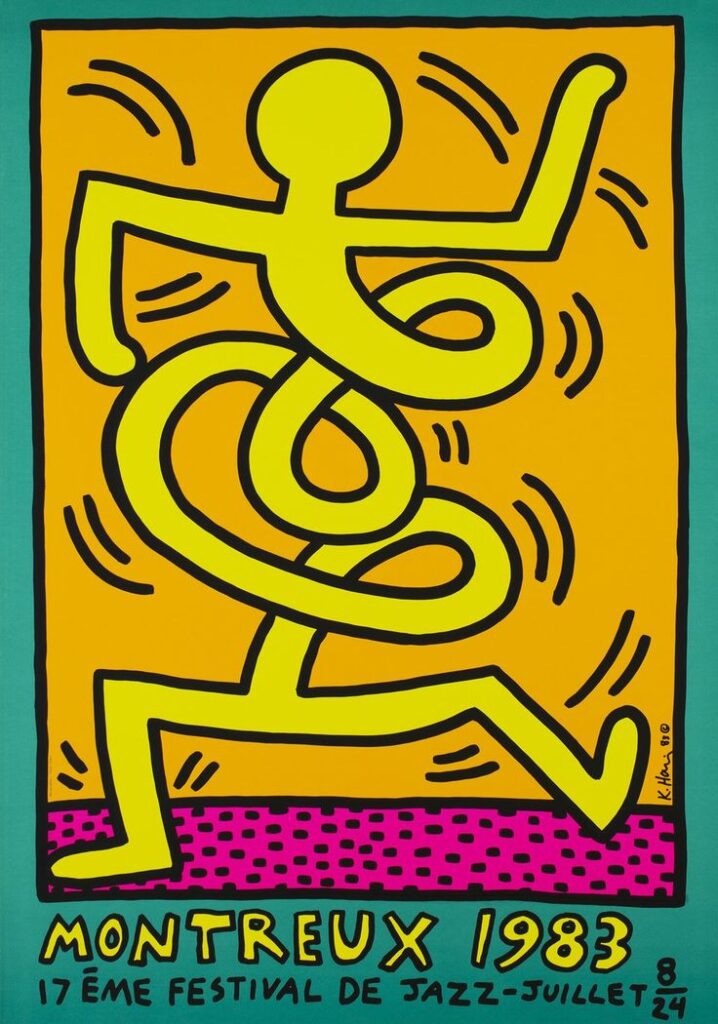 6. Safe Sex, 1988
It represents a discourse around sex, risk, and pleasure in the realm of high art. The specific message of these works probably would not have mass appeal, as they challenged both traditional homophobia and the culture wars of the Christian right. 
Even the auctioneer who secured Safe Sex for the benefit of the GMHC was concerned because "it showed two male figures caressing each other," expressing his concern that "it might appear in The New York Times."
7. Pop Shop III, 1989
In 1986, Haring opened the Pop Shop in downtown Manhattan, understanding the store primarily as an extension of his work where his art could be accessible to everyone.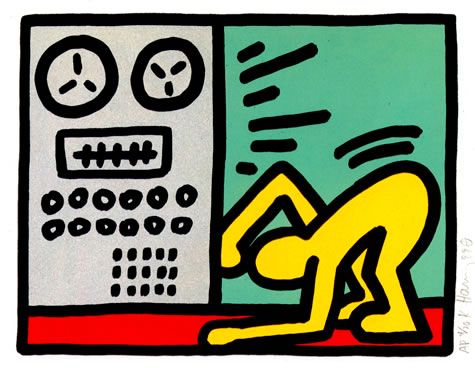 8. Andy Mouse, 1986
This body of work is a testimony to the relationship between Andy Warhol and Keith Haring.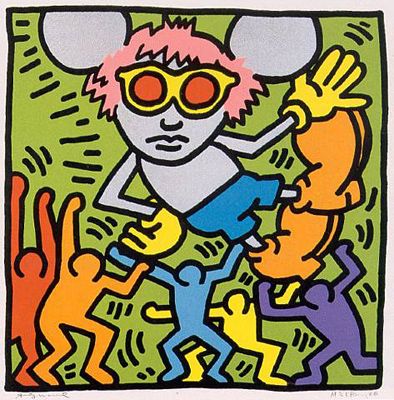 9. Growing, 1988
It represents a set of stacked figures that speak of the sense of community and solidarity.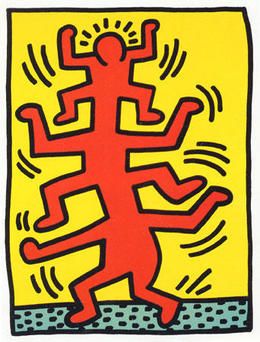 10. Barking Dog, 1990
The barking dog has become one of Haring's most iconic symbols. It emerged as a symbol of oppression and aggression, acting as a warning to the viewer of the abuses of power that permeate everyday life in the United States and beyond.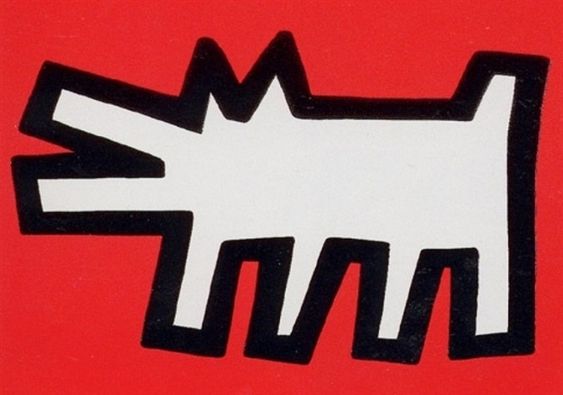 Were you familiar with Keith Haring's works and his influence on street culture?