A FUNNY WAY TO USE MARIJUANA WITH A WEED BONG
We always give you the best advice about marijuana. That's why today we want to tell you about Weed Bong! 😉 We're sure you know many creative ways to consume marijuana, but this one? Let's check it out!
What is a bong?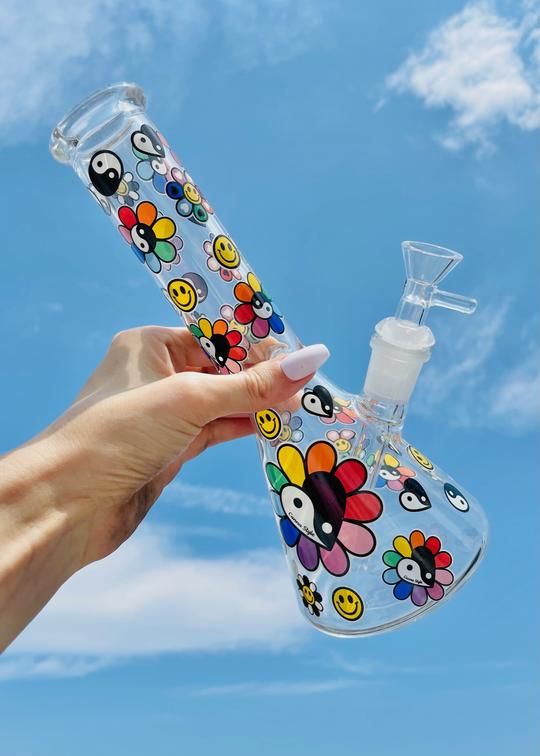 Font: Pinterest
The word bong is an adaptation of the Thai word baung, which refers to a wooden cylinder or pipe cut from a bamboo cane, used for smoking. Whether manufactured or homemade, the device as we know it remains essentially true to this definition. Its central identifying shape – the cylindrical neck – mirrors the sturdy cylinder of a bamboo stalk.
The neck, vessel, or tube of the bong connects to the base where the water resides. Bongs are often custom-made or, conversely, homemade, and come in a myriad of shapes, sizes, and modifications. Some bongs are just a straight tube that connects to the mouthpiece. 
The only other essential parts of a bong are the bowl and the stem or cylinder. Although most bongs on the market are made of glass, homemade bongs can be built with any container that is airtight and watertight by adding a cylinder, bowl, and carb apparatus.
Advantages of bongs
One of the main reasons for the bong's popularity is that it's easy to use. The best bongs offer the simplicity and immediacy of a dry flower pipe, while facilitating a smoother experience by eliminating dry, harsh smoke through water filtration. Bongs offer especially cool puffs when ice is added to the water.
In general, it's easier to learn how to use a bong than other popular smoking devices. Bongs require less prep work than a joint and typically offer a stronger effect than a dry flower vaporizer. Also, unlike a joint, they don't start to taste bad because of tar buildup. 
Do bongs filter smoke?
Studies have shown that bongs can filter out carcinogens and other toxins produced by burning cannabis, especially if equipped with a diffuser or percolator. Passing marijuana smoke through water has been shown to eliminate the presence of the cytotoxins acrolein and acetaldehyde. These cytotoxins are present in both marijuana and tobacco, and are harmful to the main defense cells of the lung.
Disadvantages of bongs
The central purpose of a bong is to cool and filter smoke through water filtration. However, while the result is a smoother smoke, it can also leach out some THC and other psychoactive compounds. In fact, bongs filter out more cannabinoids than tar. And filtering out cannabinoids means you have to smoke more to get the desired effect!
Many of the best bongs also require a higher initial cost than a blunt or joint. When you know how to use it, a well-made and well-maintained bong can last a lifetime, but it can also involve considerable upfront expense. Prices for bongs can range from $10 to thousands of dollars for a handcrafted piece.
And while bongs may require less prep work than a joint, they require much more maintenance and upkeep. If you don't change the water, a bong can become increasingly difficult to clean, and those just starting to use them should also be aware that bong water smells bad. The smell of bong water isn't necessarily a disadvantage that affects its performance, but it's generally unpleasant for cannabis users.
How to use a bong
Trying a new or unfamiliar method of smoking can be overwhelming and confusing for those just starting out. Bongs can be easy to use, but they are also intimidating. 
If you don't know how to use a bong, or are concerned about smoking with a bong for the first time, remember the following steps until you have enough practice to perfect your routine! 😉
Fill the bong with water. Pour directly into the mouthpiece. When the bong is filled with water, the stem should be submerged no more than one inch inside the bong. If there is more water, you may end up inhaling some liquid when trying to smoke.
Grind the cannabis with a grinder or scissors, or break it up with your hands if you don't have a grinder available.
Place the cannabis in the bowl. Don't over-tighten it: make sure there is room for air to pass through.
Hold the bong with your non-dominant hand and the lighter with your dominant hand!¡
Breathe deeply to get the oxygen flowing and make it easier to inhale a large amount of smoke from the bong.
Put your mouth on the mouthpiece. Create an airtight seal by placing your lips completely inside with the rim of the mouthpiece.
Light the bowl. Light the lighter, tilt it over the bowl and inhale slowly so that the smoke rises up the pipe.
Smoke. Once you've drawn enough smoke into the pipe, remove the bowl from the mouthpiece and inhale the smoke. Hold the smoke for two or three seconds and then exhale! 
Why do bongs hit harder?
A bong's large chamber and water filtration system allow you to get a larger amount of fresh smoke than a pipe or joint. At first, it can be difficult to know how to use a bong without inhaling too much and coughing. 
It's best to start by taking slow, moderate puffs, and then adjust your inhalation once you have mastered the process 😉.